Normal price
€149.90
€149.90
retail price
Normal price
€167.40
€149.90
base price
pros
540 Capsules
€0.83
per daily portion
60 days money back guarantee

Free Shipping (from 39€ DE & AT)

Pay after 30 days

Pay after 30 days
INGREDIENTS

Ingredients: Inulin (from chicory), calcium citrate, oligofructose, coating agent: hydroxypropylmethylcellulose (vegetable capsule shell), zinc gluconate, sodium selenite Lactobacillus crispatus (microencapsulated), Lactobacillus bulgaricus, Bifidobacterium breve (microencapsulated), Lactobacillus rhamnosus (microencapsulated), Bifidobacterium lactis (microencapsulated), Bifidobacterium infantis (microencapsulated), Lactobacillus salivarius (microencapsulated), Lactobacillus paracasei (microencapsulated), Enterococcus faecium, Lactobacillus reuteri (microencapsulated), Bifidobacterium bifidum (microencapsulated), Lactobacillus gasseri, Lactobacillus acidophilus (microencapsulated), Lactobacillus plantarum (microencapsulated), Lactobacillus helveticus, Lactobacillus casei (microencapsulated), Streptococcus thermophilus (microencapsulated), Bifidobacterium longum (microencapsulated).

Please note:
Dietary supplements are not intended as a substitute for a balanced and varied diet or a healthy lifestyle. The recommended daily dose should not be exceeded. Keep out of reach of children. Store in a cool, dry and dark place.
NUTRITIONAL TABLE

| Ingredients | per 3 capsules (daily dose) | % NRV * |
| --- | --- | --- |
| Inulin (from chicory) | 300 mg | ** |
| Oligofructose | 250 mg | ** |
| Calcium | 120 mg | 15% |
| Selenium | 44 g | 80% |
| Zinc gluconate | 16,6 mg | |
| - of which zinc | 2 mg | 20% |
| Mixture of living bacterial cultures | 15 billion CFU | ** |

* Percentage of the nutrient reference values ​​(NRV) according to Regulation (EU) No. 1169/2011

** No nutrient reference values ​​(NRV) available

CFU = colony-forming units



View full details
For healthy intestines
With calcium to help your digestion
Immune support
With zinc, for healthy immune function
18 bacterial cultures
Comprehensive and balanced spectrum of bacteria
15 billion live cultures
Highly dosed for optimal effectiveness
Immune supplement. Support for your second brain.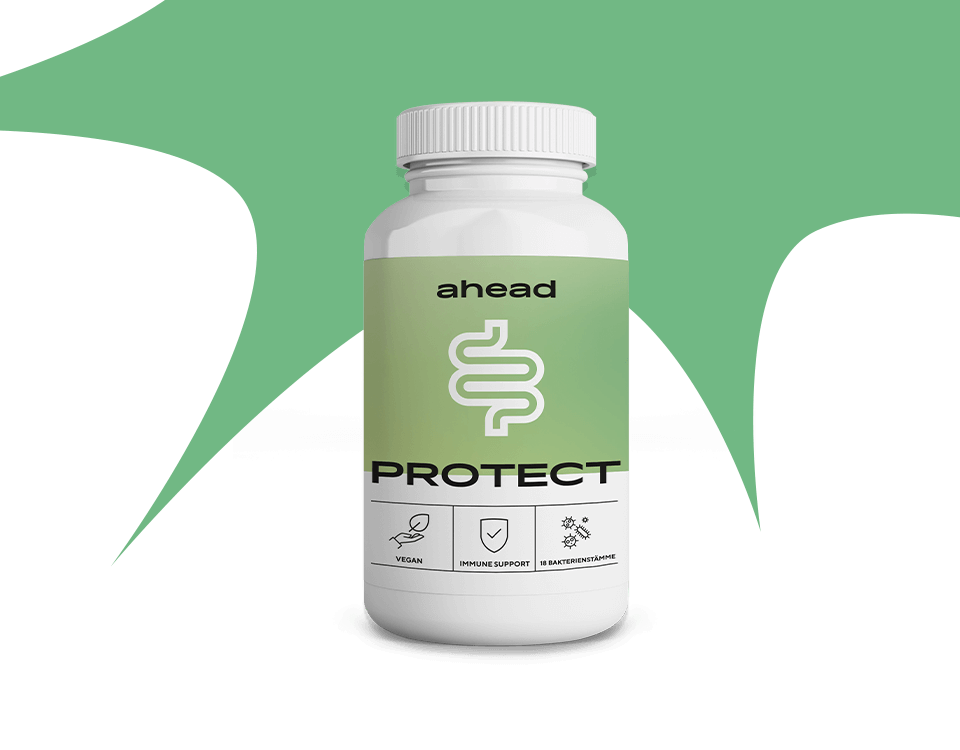 Not everything the intestine processes has a positive effect on the digestive system. An unhealthy lifestyle, with a lot of sugar, alcohol or trans fats can cause imbalance in the intestines. Since the intestine and brain constantly communicate with one another via the intestinal-brain axis, increased everyday stress can also affect the intestine. That's why it's so essential to support the work of these vital organs.
Protect supports your intestines and digestion with calcium, which supports your digestive enzymes in using the nutrients you have absorbed. Additionally contains Protect a coordinated spectrum of bacteria from 18 living bacterial cultures and a total of 15 billion KbE. The combination with the pre-substances inulin and oligofructose ensures that the bacterial cultures can settle and multiply. The zinc it contains also promotes immune function and nutrient absorption.

🛡 Supports intestines and digestion

Calcium contributes to the normal functioning of digestive enzymes, thus optimizing the nutrition and health of every cell in your body.
🛡 Supports the immune system

Zinc contributes to the healthy function of the immune system, which means you have a thicker shield against the harms and hazards of the outside world
🛡 Supports nutrient absorption

Zinc contributes to the normal metabolism of macronutrients. The result? Your body can process more of the nutrients it's fed.
🛡 With pre-fabrics

Inulin & oligofructose for improved settlement
Effective protection with zinc for your immune system
Granted, it's not exactly sexy to talk about the gut. However, it plays an incredibly important role in our lives. The intestine takes care of the absorption of energy, vitamins and minerals from food and thus gives our body the basis for life. The gut makes up about two-thirds of our immune system. However, the majority of the tasks are not performed by the intestine itself, but by the bacteria living in it. 100 trillion microorganisms colonize your intestines. That's more single-celled organisms than your entire body has of its own cells
you have questions We have answers
Do I get my money back if I am not satisfied?

100%. We stand by our products. If you're dissatisfied for any reason ... or no reason at all ... contact us. We'll refund your money and work to fix the problem.
Do you get your ingredients regionally?

We source our ingredients from sustainable cultivation worldwide. We choose the place of origin based on where we get the best quality of the raw material. We're always looking for better local options. If you have a tip, we look forward to your message.
How does my subscription work?

Before we debit the monthly amount, you'll receive an email confirming your next delivery. You can postpone or cancel your next delivery at any time in your account. We want to deliver only as much as you need.
Our 60 day money back guarantee
Test our products for up to 60 days. If you're dissatisfied for any reason ... or no reason at all ... you'll be refunded the full amount. That's how much we believe in our product.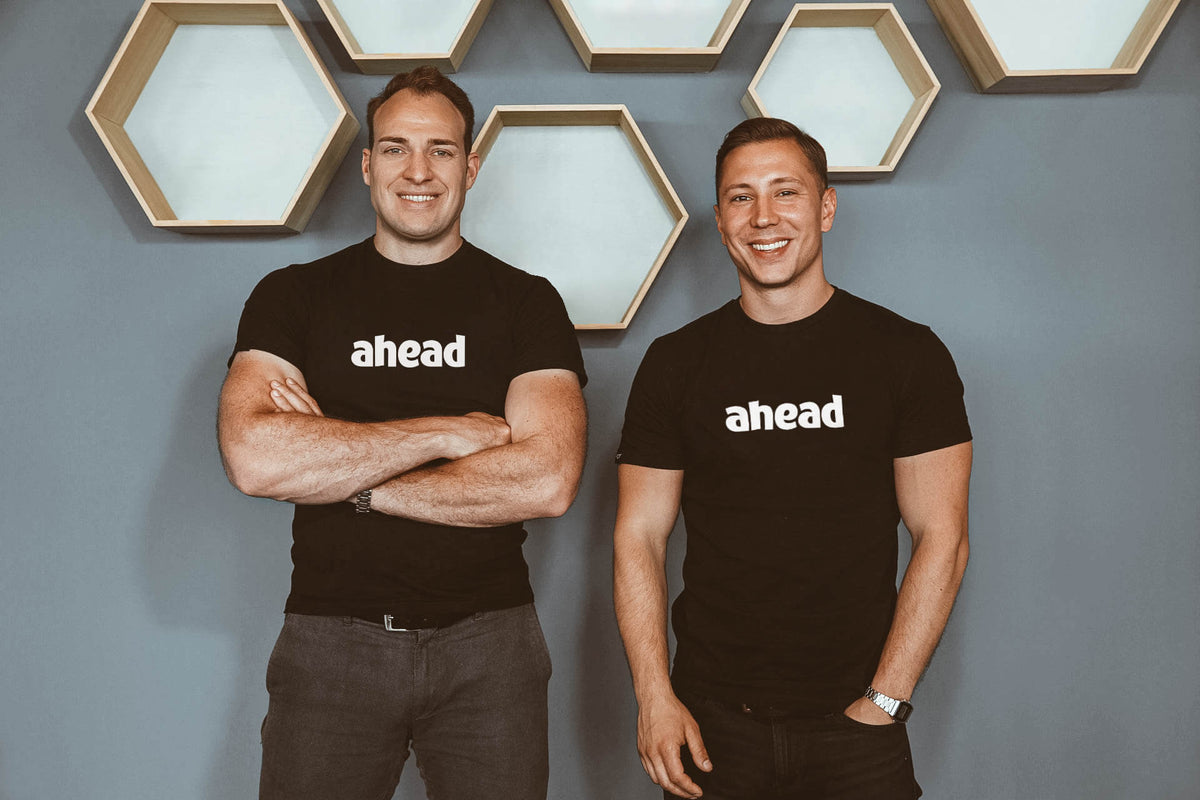 What Our Guilt Guerrilla Crew Says