Normal price
€69.90
€69.90
retail price
Normal price
€104.70
€69.90
base price
pros
540 Capsules
€0.38
per daily portion
60 days money back guarantee

Free Shipping (from 39€ DE & AT)

Pay after 30 days

Pay after 30 days
INGREDIENTS

Ingredients: Fish oil in the form of triglycerides, capsule shell made from beef gelatin, magnesium bisglycinate, astaxanthin oil from the blood rain algae, peppermint oil, DL-alpha-tocopherol, menaquinone-7 (MK-7), cholecalciferol, soy oil, beeswax, lecithin, glycerin, red water iron oxide and purified water .

Please note:
Food supplements are not a substitute for a balanced and varied diet or a healthy lifestyle. The recommended daily dose should not be exceeded. Keep out of reach of children.
NUTRITIONAL TABLE

| Ingredients | per 3 capsules (daily dose) | % NRV * |
| --- | --- | --- |
| Microfiltered fish oil | 1200 mg | ** |
| - of which EPA | 600 mg | ** |
| - of which DHA | 300 mg | ** |
| Astaxanthin oil | 20 mg | ** |
| - of which 5% astaxanthin | 1 mg | ** |
| peppermint oil | 20 mg | ** |
| Vitamin E | 1,8 mg | 15% |
| Vitamin D3 | 25 mcg | 500% |
| Vitamin K2 (MK-7) | 37,5 mcg | 50% |
| Magnesium glycinate | 75 mg | 20% |

* Reference amount for daily intake in accordance with EU regulation / NRV = Nutrient Reference Value

** no reference quantity available
View full details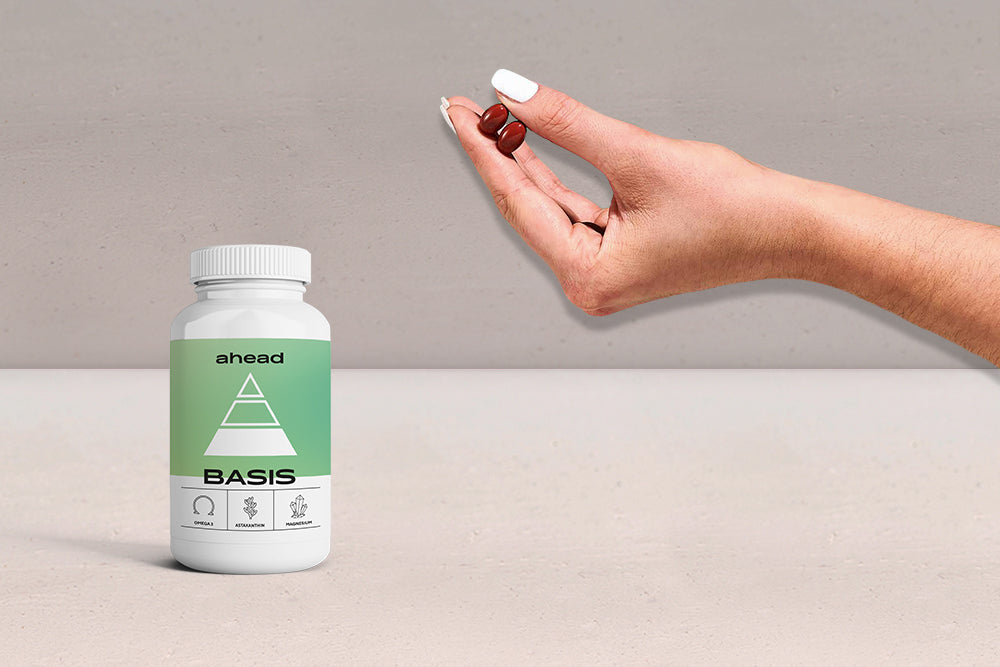 Everything in one capsule
High-dose omega-3s with vitamin D3 + K2 and natural astaxanthin
High bioavailability
High-quality magnesium glycinate instead of cheap magnesium carbonate
taste
neutral
Say goodbye to burping and aftertaste. Mint oil neutralizes the taste.
Easy consumption
Bite-sized softgel capsules, as small as a pea
The only Essentials product you'll ever need.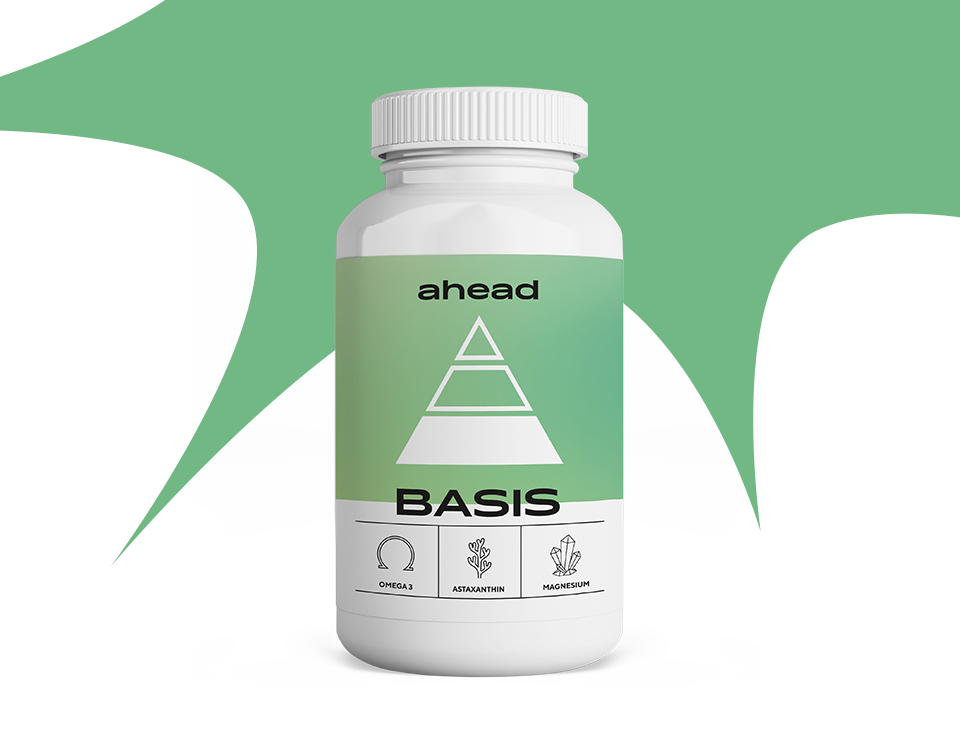 Do you lead a mentally or physically demanding lifestyle? Despite a healthy diet, do you find it difficult to cover your increased need for essential nutrients such as omega-3, magnesium, vitamin D3 and K2? Then you will be BASIS love as a new part of your daily routine.
⬆️ Supports brain function

DHA helps maintain normal brain function.
⬆️ Supports the cardiovascular system

EPA and DHA contribute to normal heart function and maintenance of normal blood pressure.
⬆️ Promotes healthy bones and muscles

Vitamin D contributes to the maintenance of normal muscle function. Vitamin D and K contribute to the maintenance of normal bones.
⬆️ Support for the immune system

Vitamin D aids the normal function of the immune system.
Now put butter on the fish
Let's face it: it's a pain to try to eat fatty fish several times a week to get enough omega 3. But why is omega 30 so important? Our body can't produce the essential omega 3 fatty acids EPA and DHA contained in fish. However, XNUMX% of our brain consists of exactly these omega XNUMX fatty acids. They promote brain performance and memory function and support the cardiovascular system.
BASIS contains with 1000mg EPA & DHA an approximately 4 times higher concentration of EPA & DHA than comparable products Basis of krill oil. That makes BASIS the best choice for anyone who wants to support a healthy and efficient brain and cardiovascular system. To neutralize the fishy taste, we have BASIS specially coated and enriched with natural peppermint oil. Fishy belching is a thing of the past forever.
you have questions We have answers
Do I get my money back if I am not satisfied?

100%. We stand by our products. If you're dissatisfied for any reason ... or no reason at all ... contact us. We'll refund your money and work to fix the problem.
Do you get your ingredients regionally?

We source our ingredients from sustainable cultivation worldwide. We choose the place of origin based on where we get the best quality of the raw material. We're always looking for better local options. If you have a tip, we look forward to your message.
How does my subscription work?

Before we debit the monthly amount, you'll receive an email confirming your next delivery. You can postpone or cancel your next delivery at any time in your account. We want to deliver only as much as you need.
Our 60 day money back guarantee
Test our products for up to 60 days. If you are not satisfied, we will give you a full refund. That's how much we believe in our product.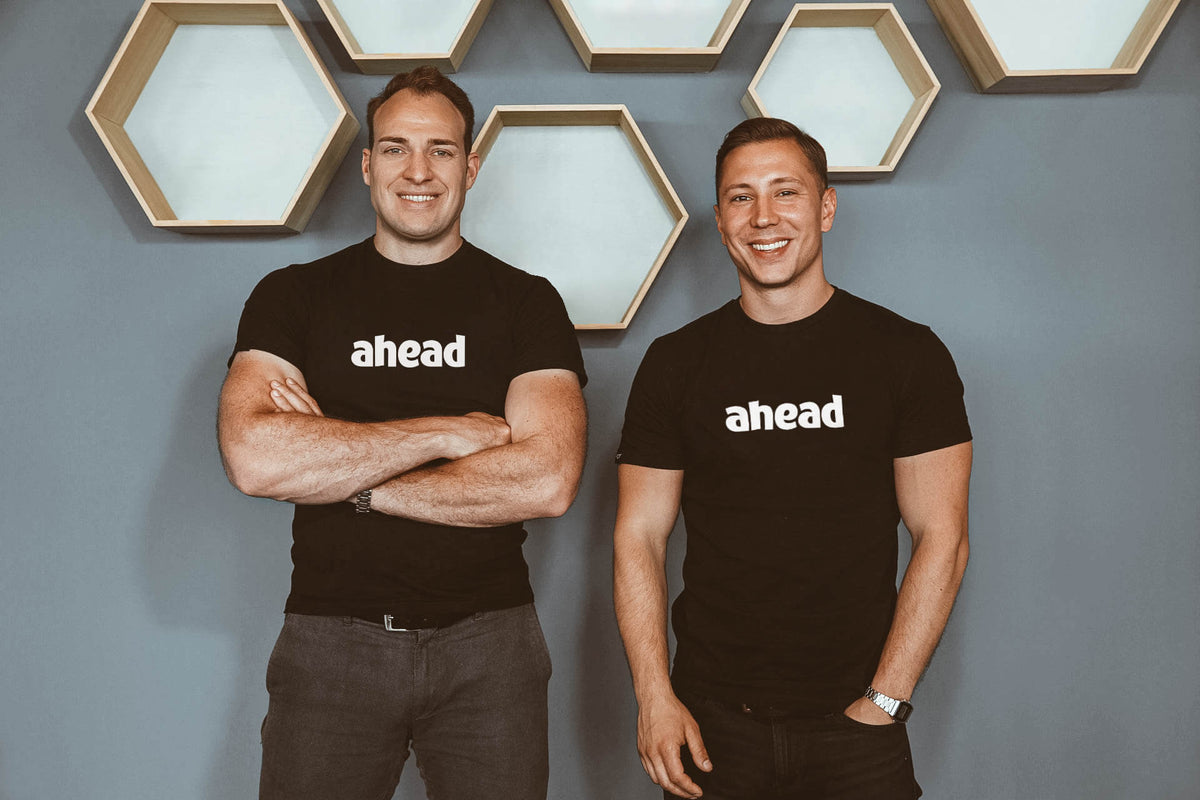 What Our Guilt Guerrilla Crew Says