Be smart and save 10%. You selected a one-time purchase. Why not switch to a flexible plan and save 10%? No minimum term, cancellable or adaptable at any time.
10% discount
Get 10% discount on every order
No minimum term
Cancel your savings subscription whenever you want
Customizable at any time
Change delivery intervals & varieties at any time
Normal price
€34.90
€34.90
retail price
Normal price
€34.90
base price
pros
(€830.95 / kg) incl. VAT, plus shipping costs
90 Capsules
€1.16
per daily portion
60 days money back guarantee

Free Shipping (from 39€ DE & AT)

Pay after 30 days

Pay after 30 days
INGREDIENTS

Sharp Mind

Ingredients: CDP choline, phosphatidylserine powder, hydroxypropylmethylcellulose (vegetable capsule shell), acetyl-L-carnitine, Brahmi extract, black pepper extract, vitamin B3 (niacin), vitamin B5 (pantothenic acid), vitamin B6 (P5P), vitamin B2 (riboflavin), Vitamin B12 (methylcobalamin).

Please note:
Food supplements are not a substitute for a balanced and varied diet or a healthy lifestyle. The recommended daily dose should not be exceeded. Keep out of reach of children.

NUTRITIONAL TABLE

| Ingredients | per 3 capsules (daily dose) | % RM * |
| --- | --- | --- |
| CDP choline | 500 mg | ** |
| Phosphatidylserine powder | 500 mg | ** |
| - of which phosphatidylserine | 100 mg | ** |
| Acetyl-L-Carnitine | 240 mg | ** |
| Brahmi extract (Bacopa monnieri) | 200 mg | ** |
| - of which bacosides | 100 mg | ** |
| Black pepper extract | 10,5 mg | ** |
| - of which piperine | 10 mg | ** |
| Vitamin B3 | 16 mg | 100% |
| Vitamin B5 | 7,2 mg | 120% |
| Vitamin B6 | 3,5 mg | 250% |
| Vitamin B2 | 1,2 mg | 100% |
| Vitamin B12 | 7,8 g | 310% |

* Reference amount for daily intake in accordance with EU regulation / NRV = Nutrient Reference Value

** no reference quantity available



View full details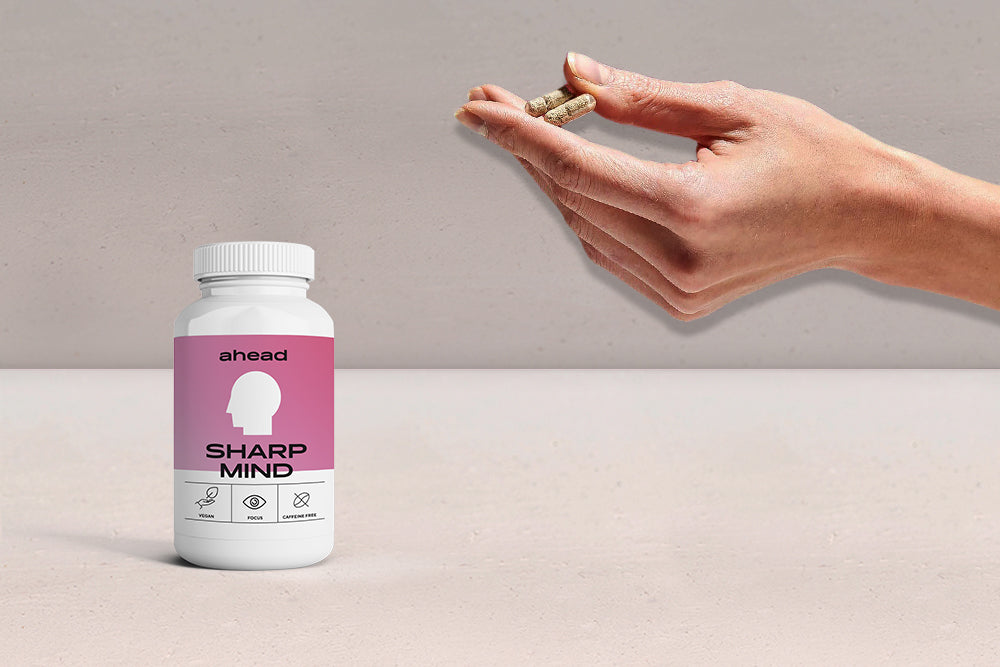 Supports concentration
Natural support with pantothenic acid for focus and cognitive performance, so you can perform your best work
Promotes thinking powers
Works reliably with vitamin B5 to support attention and memory.
Against mental fatigue
Works with B12 against tiredness and fatigue WITHOUT stimulating and WITHOUT crash tests.
Natural & vegan
Carefully selected raw materials, gently processed.
Works the first time you take it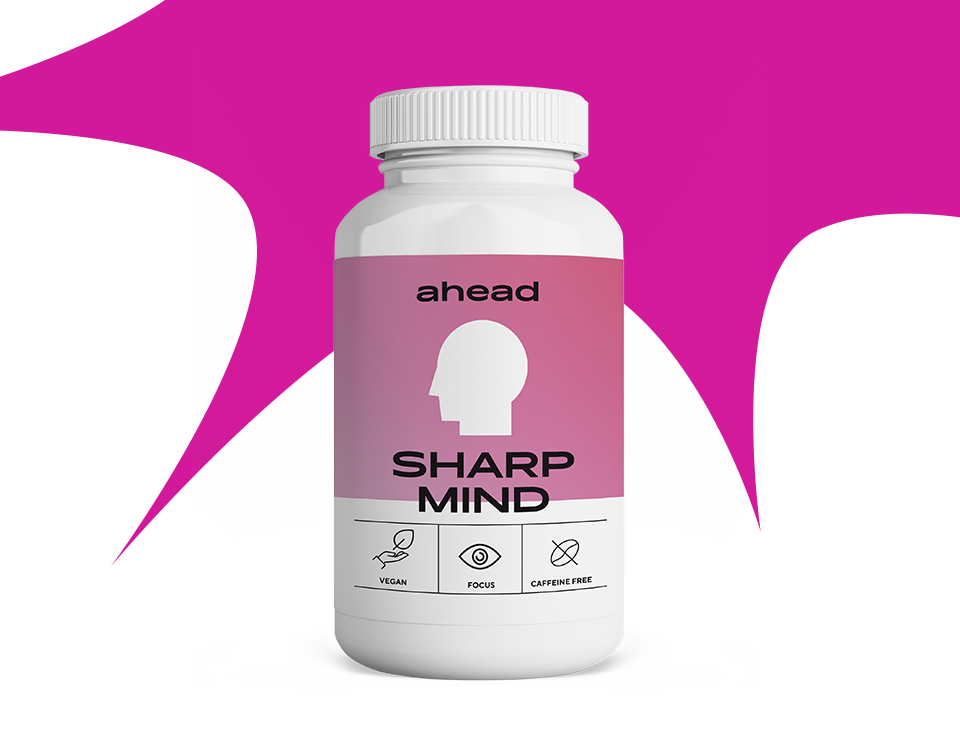 In everyday life, in sports, at university or in the office - your mental state decides whether you will achieve your goals. In order for your brain to be able to carry out all its complex functions, it needs an optimal supply of energy and micronutrients. Sharp Mind provides you with natural support for mental concentration and memory performance with pantothenic acid and counteracts mental fatigue with cobalamins. Sharp Mind works the first time you take it - we guarantee it with our money-back guarantee.

Our functional ingredients
🧠 Citicoline Cognizin®

Choline (CDP Choline) is a building block for the important neurotransmitter acetylcholine, which is responsible for signal transmission in the brain.
🧠 Phosphatidylserine

is an essential lipid compound of the cell membranes in the brain. As an important regulator, phosphatidylserine is involved in the exchange of information between brain cells.
🧠 Bacopa Monnieri (Brahmi)

contains a lot of beneficial bacosides. The active ingredient bacoside A in particular is the focus of numerous scientific studies.
🧠 Acetyl-L-Carnitine

can cross the blood-brain barrier and work in the brain. Carnitine plays a crucial role in the fat metabolism of the mitochondria, which provide the body with energy.
Focused when it matters most
Your future is determined by your ability to focus on the most important tasks you could be doing at any given moment. Imagine all you could achieve if you were mentally sharp day to day, hour by hour. But many of us in this distracting day and age have a "monkey mind" that jumps from one thing to the next.
Sharp Mindreliably supports your attention and cognitive performance with pantothenic acid. Thanks to B12, it counteracts mental fatigue and does so entirely without caffeine. The advantage: no stimulants, no caffeine crash.
you have questions We have answers
Why is there no caffeine?

We have avoided any form of stimulating ingredients, as these not only disturb sleep, but can also result in unpleasant side effects such as high blood pressure, tremors, nervousness and loss of fine motor skills. SHARP MIND is therefore also suitable for study and work units in the late afternoon or evening. Would you like an additional energy boost? Then enjoy SHARP MIND with a BULLET coffee or caffeine source of your choice.
Do I get my money back if I am not satisfied?

100%. We stand by our products. If you're dissatisfied for any reason ... or no reason at all ... contact us. We'll refund your money and work to fix the problem.
Do you get your ingredients regionally?

We source our ingredients from sustainable cultivation worldwide. We choose the place of origin based on where we get the best quality of the raw material. We're always looking for better local options. If you have a tip, we look forward to your message.
How does my subscription work?

Before we debit the monthly amount, you'll receive an email confirming your next delivery. You can postpone or cancel your next delivery at any time in your account. We want to deliver only as much as you need.
Our 60 day money back guarantee
Test our products for up to 60 days. If you're dissatisfied for any reason ... or no reason at all ... you'll be refunded the full amount. That's how much we believe in our product.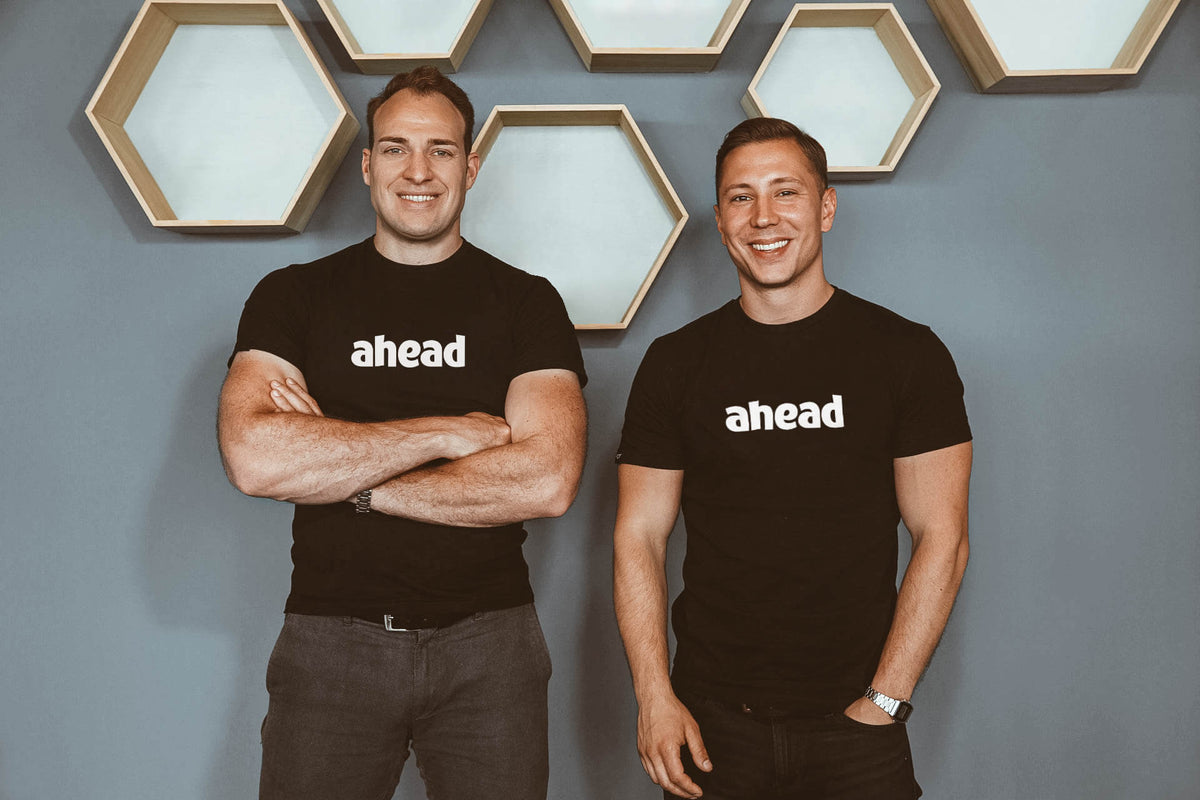 What Our Guilt Guerrilla Crew Says