Nut bars with 70% less sugar

Dark seduction with a salty-sweet kick
✅ Only 1,6g of sugar
✅ Only 6g net carbs
✅ High in fiber
✅ Vegetarian

Be smart and save 10%. You selected a one-time purchase. Why not switch to a flexible plan and save 10%? No minimum term, cancellable or adaptable at any time.
Normal price
€21.90
€21.90
retail price
Normal price
€21.90
base price
pros
(€52.14 / kg) incl. VAT, plus shipping costs
60 days money back guarantee

Free Shipping (from 49€ DE)

Pay after 30 days

Pay after 30 days
INGREDIENTS

INGREDIENTS: 29% cashew, 21% roasted almond, sweetener: maltitol, resistant tapioca dextrin, oat flakes, cocoa mass, cocoa butter, whole milk powder, rice crispies, sunflower oil, humectant: glycerin, sea salt, low-fat cocoa powder, flavor, emulsifier: lecithin (soy). WARNING: May contain traces of other nuts.
NUTRITIONAL TABLE

Nut Bar Dark & ​​Salty

| | | |
| --- | --- | --- |
| Nutritional values ​​per | 100g | Serving (35g) |
| Energy | 2046 kJ / 494 kcal | 716 kJ / 173 kcal |
| fat | 34 g | 11,9 g |
| of which, saturated fatty acids | 8,2 g | 2,9 g |
| carbohydrates | 36 g | 12,6 g |
| of which, sugars | 4,5 g | 1,6 g |
| of which polyhydric alcohols | 18 g | 6,3 g |
| Fibres | 10 g | 3,5 g |
| protein | 13 g | 4,6 g |
| Salt | 0,63 g | 0,22 g |
View full details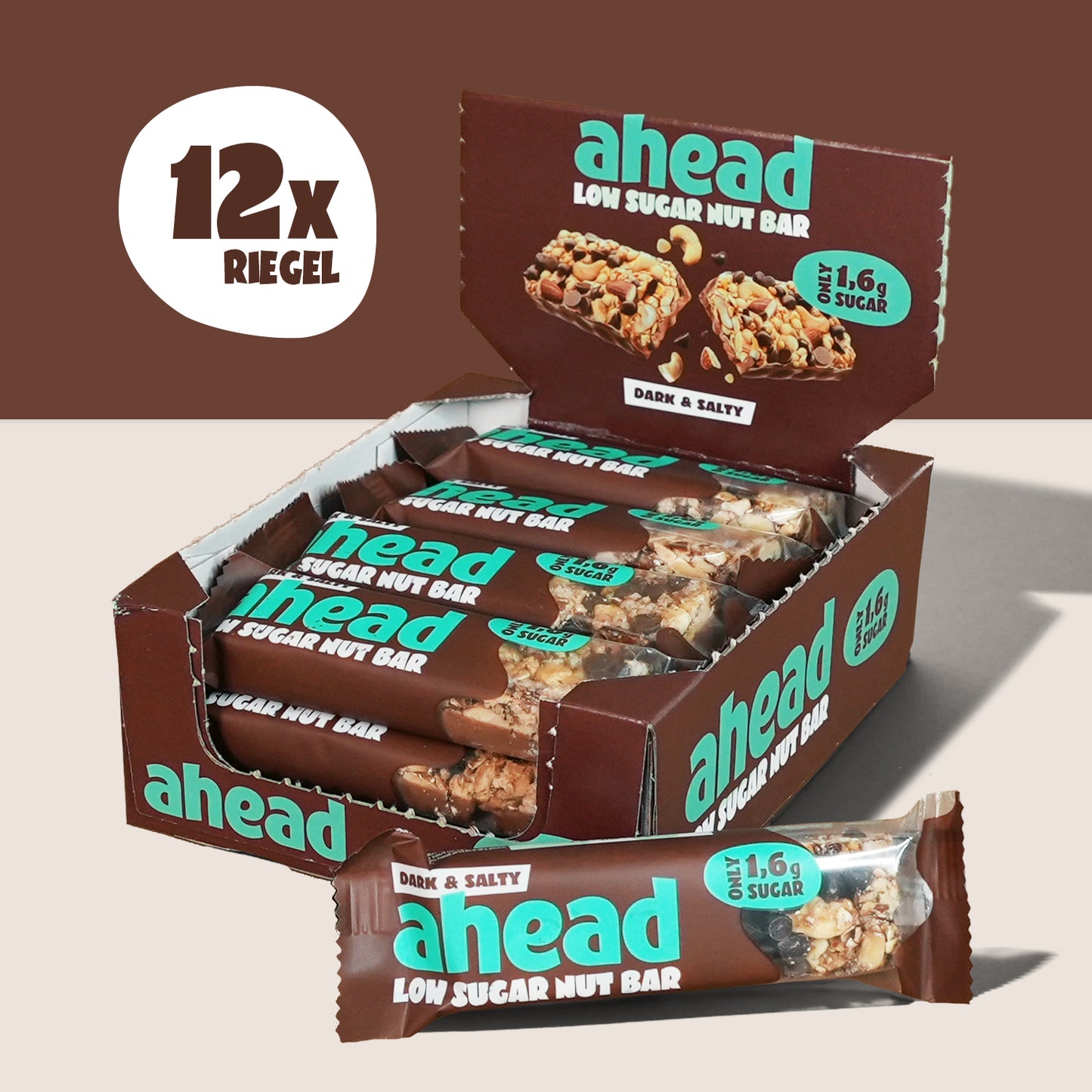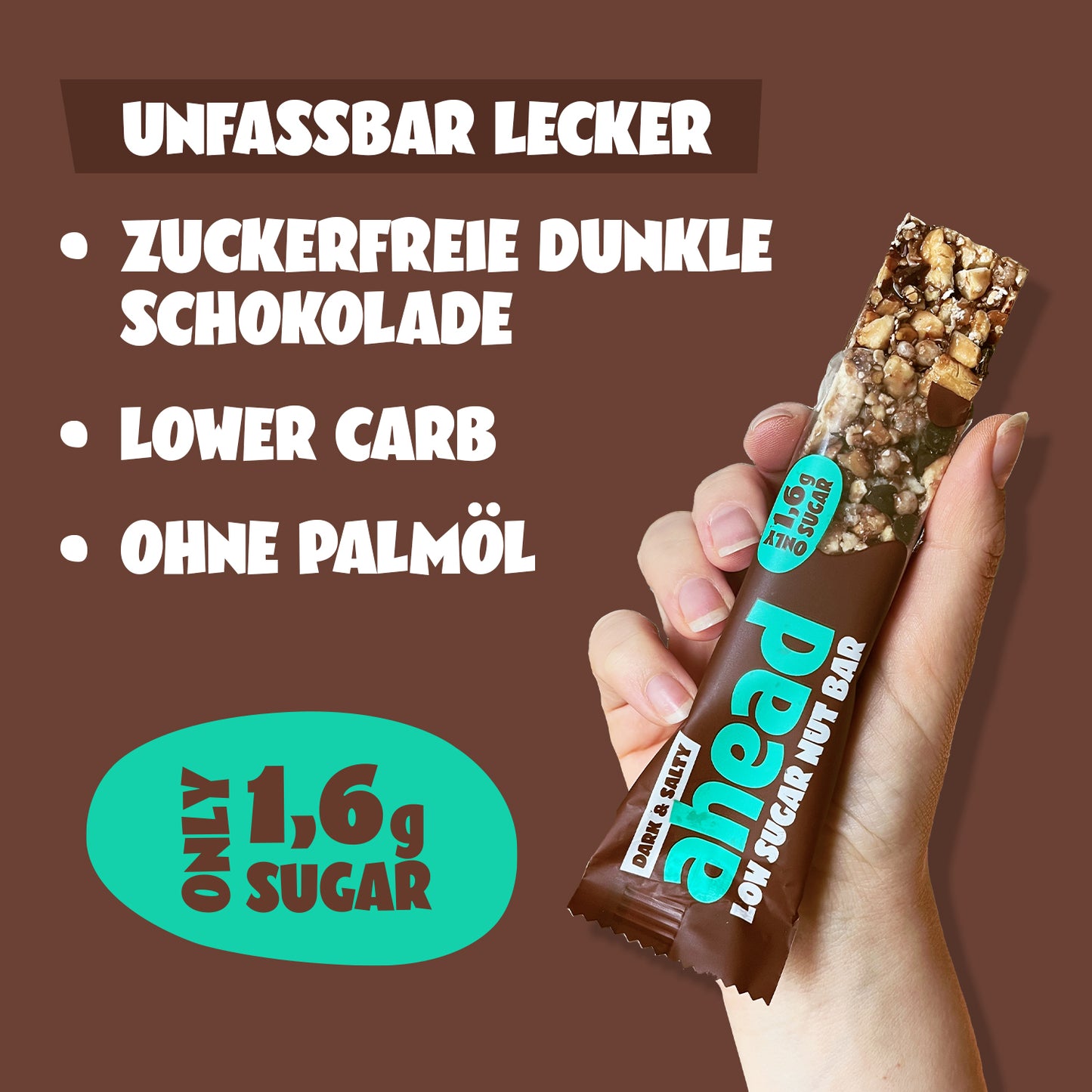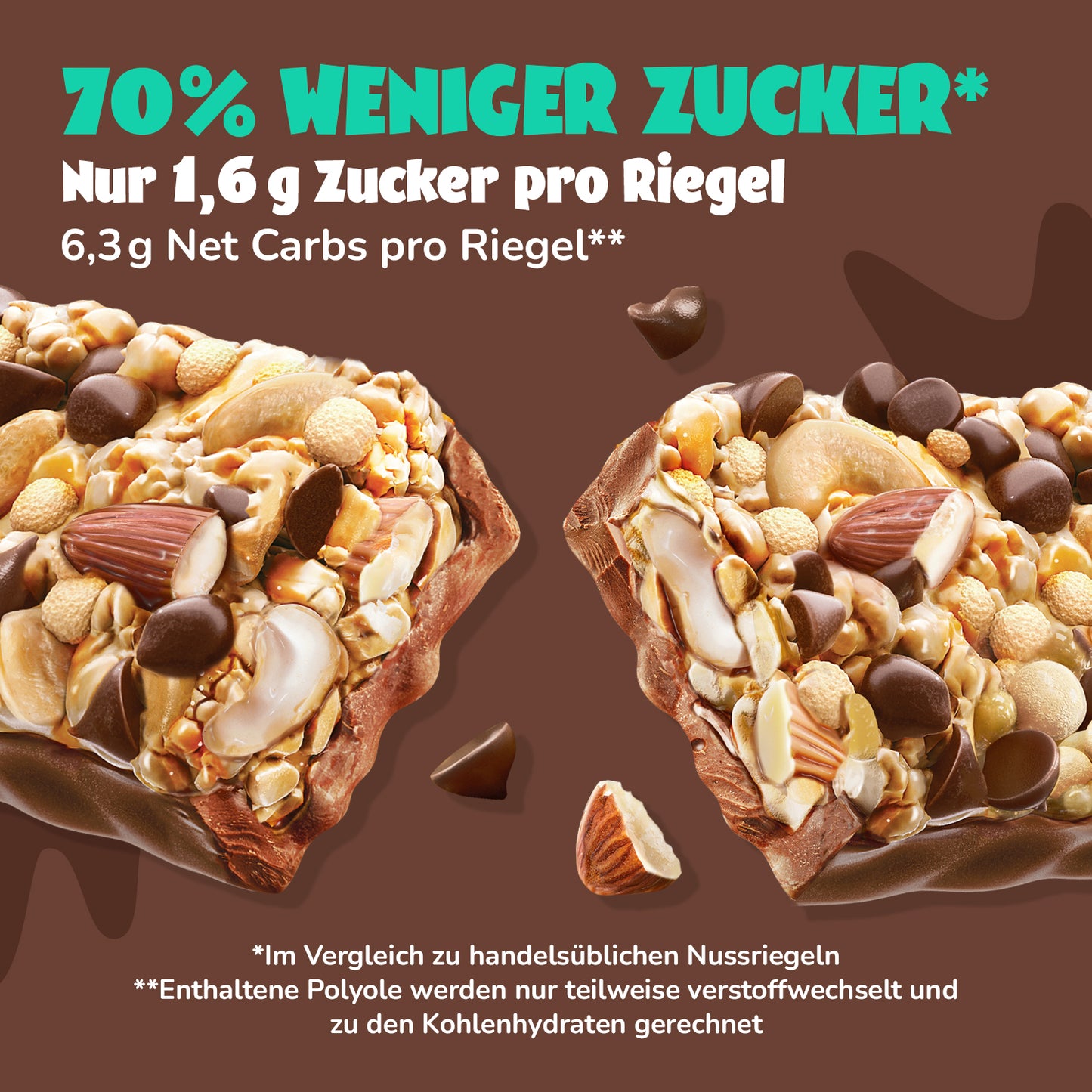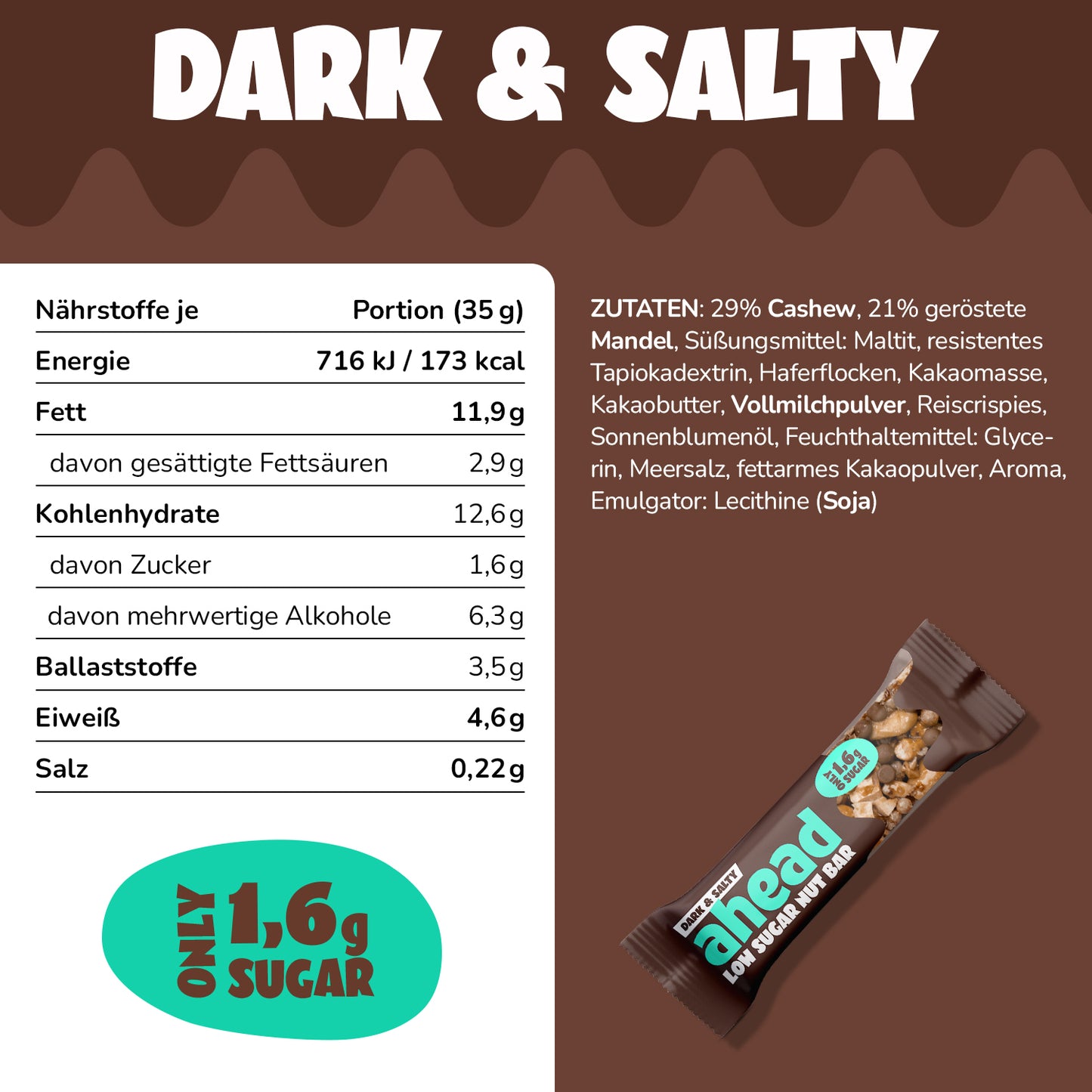 Crunchy. Dark. The perfect combination of sweet & salty.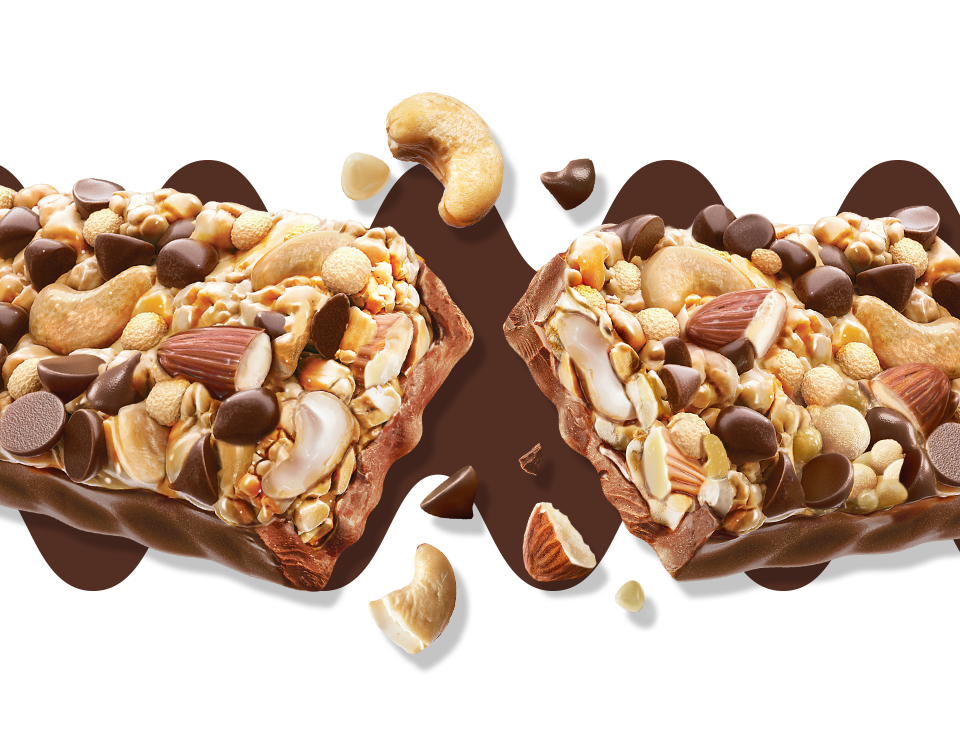 Forget everything you thought you knew about nut bars. The "Dark & ​​Salty" is not just a bar. It is your salty-sweet escape from the gray everyday life, your personal moment of strength when the day seems longest.

Are you ready for the interplay of crunchy cashews, roasted almonds, dark chocolate and a touch of sea salt? With just 1,6g of sugar, our Nut Bar gives you pure enjoyment without any regrets.

It's time to say goodbye to cravings. Time to fall in love with the dark chocolate that melts gently on your tongue, paired with the crunchy contrast of the nuts and the exciting kick of delicate sea salt flakes.

Only 1,6g of sugar
Save sugar without having to do without
lower carb
With only 8,8g Net Carbs per serving, suitable for diabetics
Keeps you full for up to 3 hours:
Packed with valuable fiber, it keeps you full for up to three hours
173 calories
The perfect snack for when you get hungry
Here's how we compare to the others:
you have questions We have answers
Is the Nut Bar suitable for allergy sufferers?

The Nut Bar Coconut Almond contains both almonds, coconut chips and soy. If you suffer from an allergy or intolerance to the following products, we recommend that you check out our cheese and paprika crispies. Furthermore, we would like to point out that Nutbar may contain traces of nuts and gluten. These are not provided for in the recipe, but can occur in small quantities for technical reasons in the production plant.
What distinguishes the Nut Bar from conventional nut bars?

Nut bars are generally very healthy. However, many turn out to be real sugar bombs, since the industry often uses sugar as a cheap binding agent. "Healthy" sugar alternatives such as coconut blossom sugar or agave syrup, which you can find in many nut bars, also have a high calorie content and raise your blood sugar level - albeit a little less than industrial sugar.
The ahead Nut Bar, on the other hand, is completely sugar-free and has a low blood sugar effect thanks to the use of low-calorie sweeteners.
What Is Tapioca Starch and What Makes It a Beneficial Binder?

Tapioca is a tasteless, plant-based cornstarch made from the cassava root. It's gluten-free and allergen-free, making it a wonderfully digestible binding agent.
Is the Nut Bar suitable for diabetics?

Yes the ahead Nut Bar is suitable for diabetics. Since we completely avoid the use of sugar and instead use sweeteners, our Nut Bars have a very low blood sugar effect. Whether as a snack in between, or as a sweet highlight after a meal, the ahead Nut Bar supports you in the daily control of your blood sugar level.
Do I get my money back if I am not satisfied?

100%. We stand by our products. If you're dissatisfied for any reason ... or no reason at all ... contact us. We'll refund your money and work to fix the problem.
Our taste guarantee
It has to taste good. That's why you can simply try our bars. If you're not satisfied, we'll give you a full refund up to 60 days after your purchase.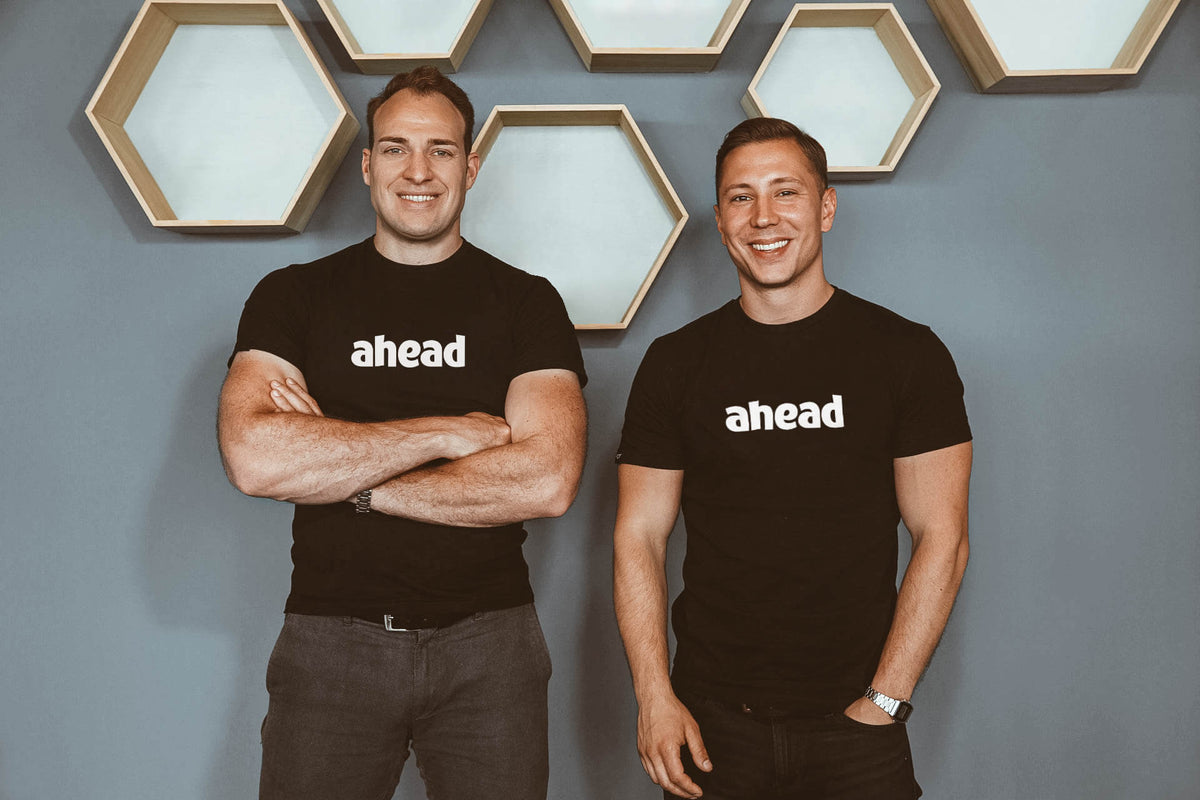 What Our Guilt Guerrilla Crew Says