The protein bar that tastes like luxury praline.

✅ 12g protein per bar
✅ Only 1,5g sugar
✅ Remember Ore*s cookies
✅ With vanilla cream filling

Be smart and save 10%. You selected a one-time purchase. Why not switch to a flexible plan and save 10%? No minimum term, cancellable or adaptable at any time.
Normal price
€31.99
€31.99
retail price
Normal price
€31.99
base price
pros
(€50.77 / kg) incl. VAT, plus shipping costs
60 days money back guarantee

Free Shipping (from 49€ DE)

Pay after 30 days

Pay after 30 days
INGREDIENTS

INGREDIENTS: sweetener (maltitol), milk protein, humectant (glycerin), cocoa butter, fiber (polydextrose), milk powder, Collagen hydrolyzate, Sojaprotein, reduced-fat cocoa powder, water, sunflower oil, rice flour, alkalized cocoa powder, tapioca starch, flavors, corn starch, coconut oil, acidity regulators (ammonium carbonates, potassium carbonates, potassium hydroxide, sodium hydroxide, ammonium hydroxide), emulsifier (lecithins), salt, raising agent (sodium bicarbonate), natural vanilla flavor. WARNING: May contain: cereals containing gluten, nuts and peanuts.
NUTRITIONAL TABLE

Cookies & Cream:

| | | |
| --- | --- | --- |
| Nutritional values ​​per | 100g | Serving (45g) |
| Energy | 1614 kJ / 387 kcal | 726 kJ / 174 kcal |
| fat | 19 g | 8,5 g |
| of which, saturated fatty acids | 9,9 g | 4,4 g |
| carbohydrates | 37 g | 17 g |
| of which, sugars | 3,4 g | 1,5 g |
| of which polyhydric alcohols | 30 g | 13 g |
| Fibres | 6,9 g | 3,1 g |
| protein | 26 g | 12 g |
| Salt | 0,29 g | 0,13 g |
| Net carbs | 7 g | 4 g |
View full details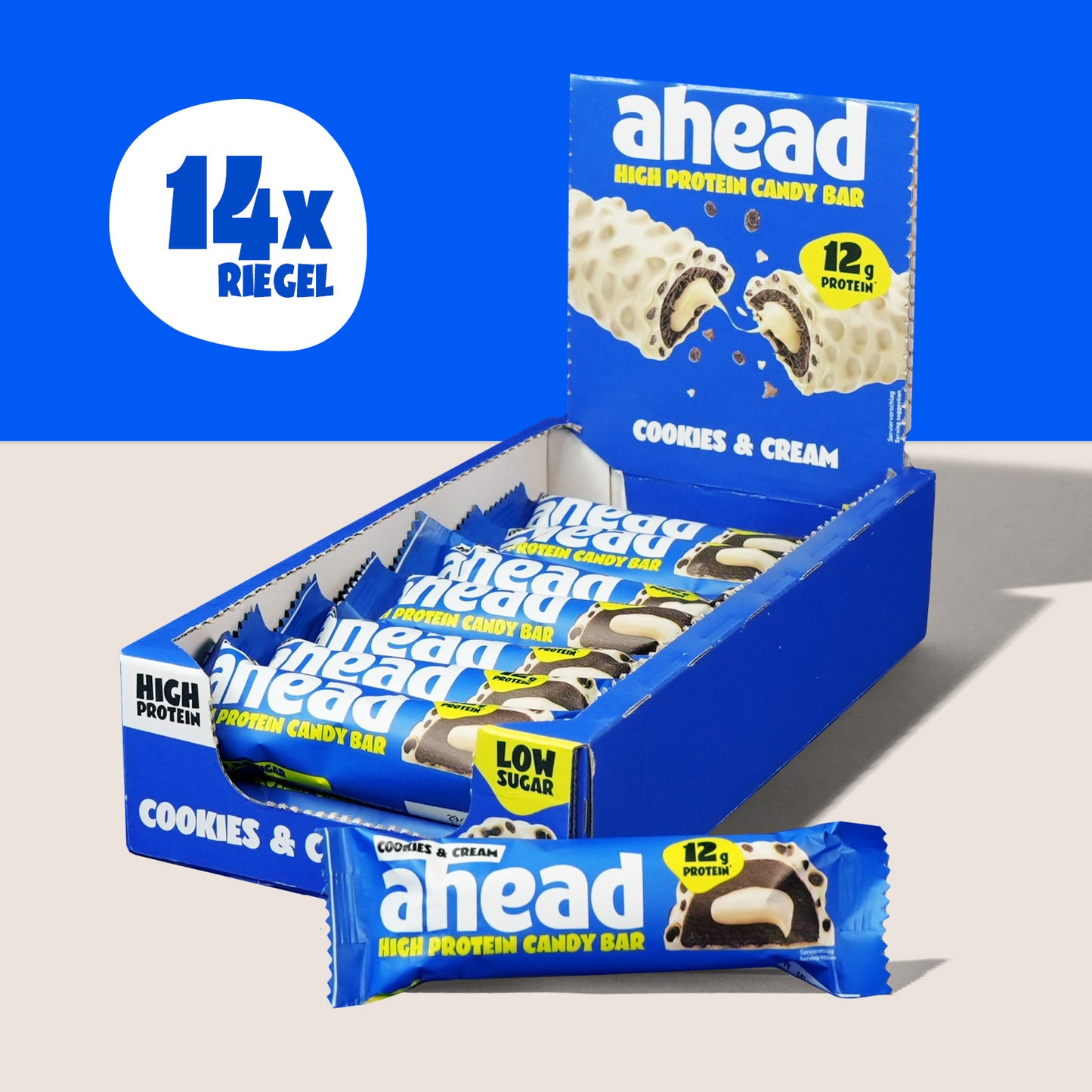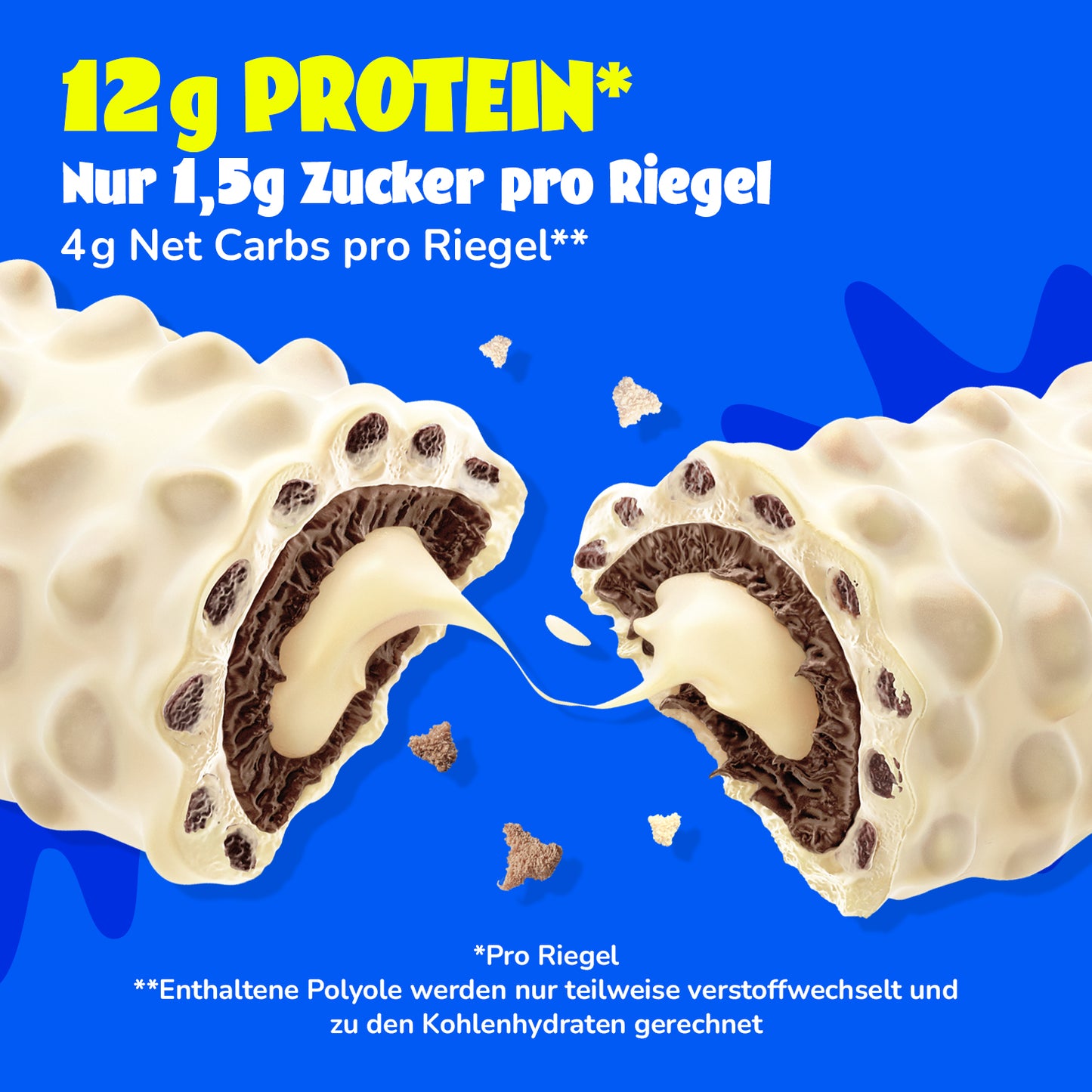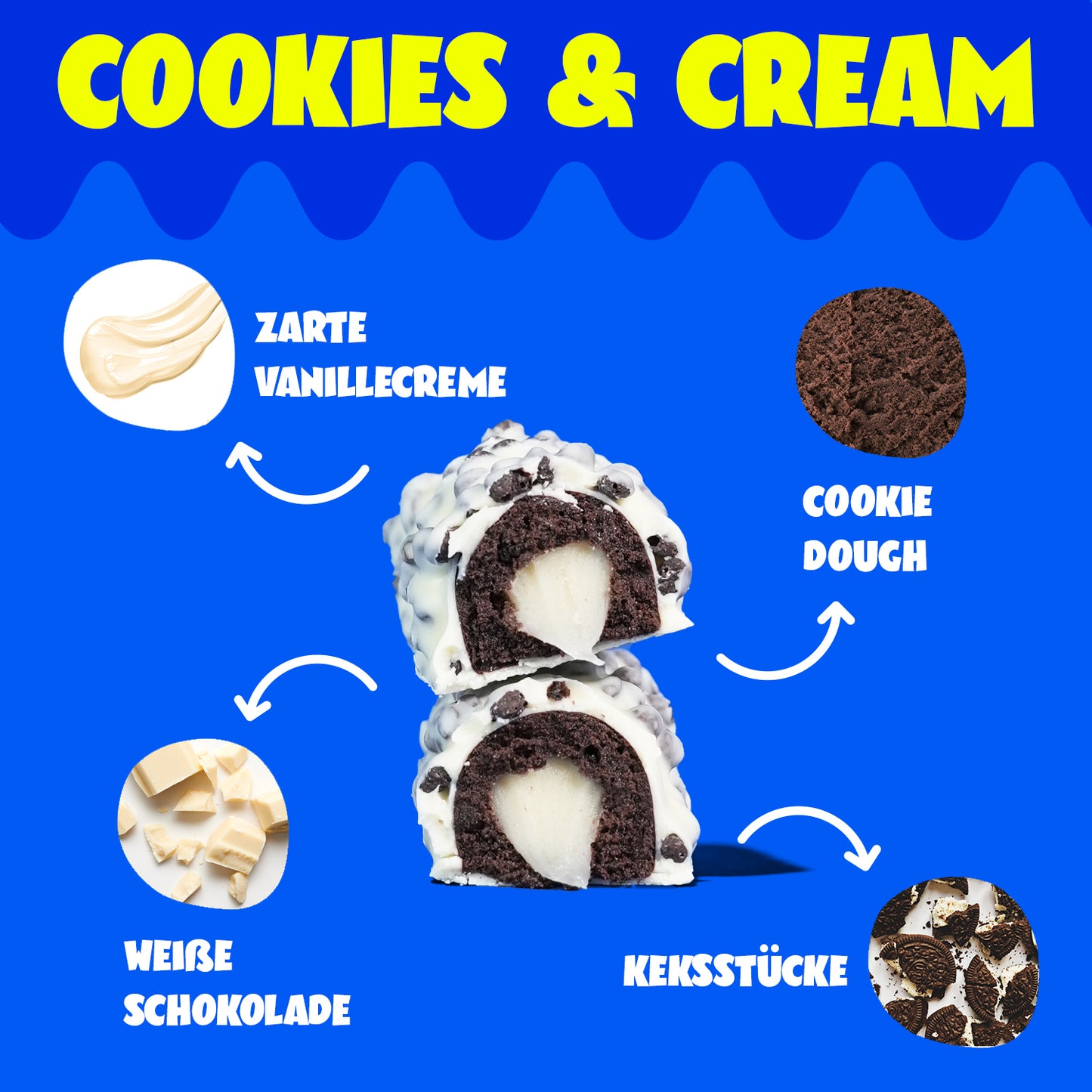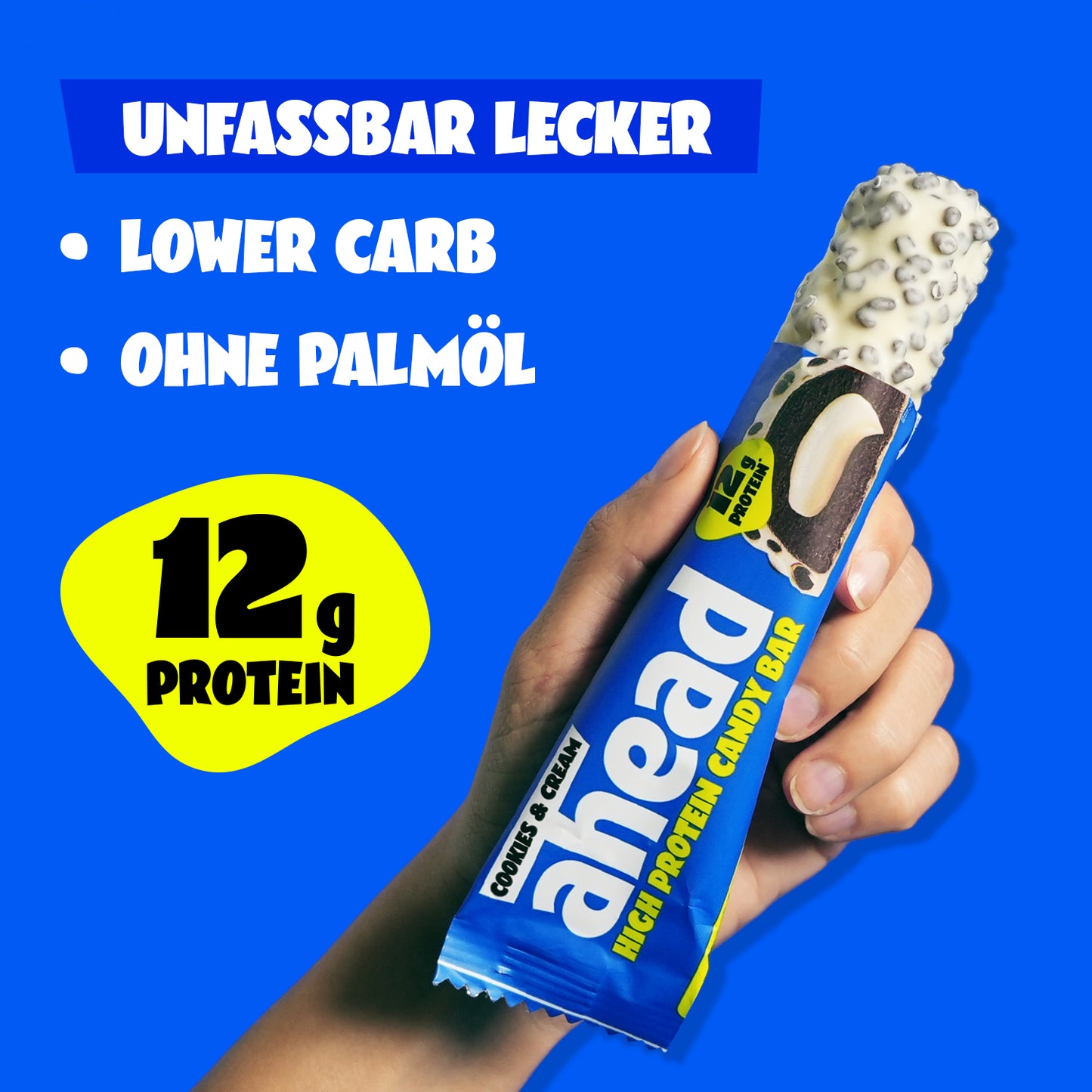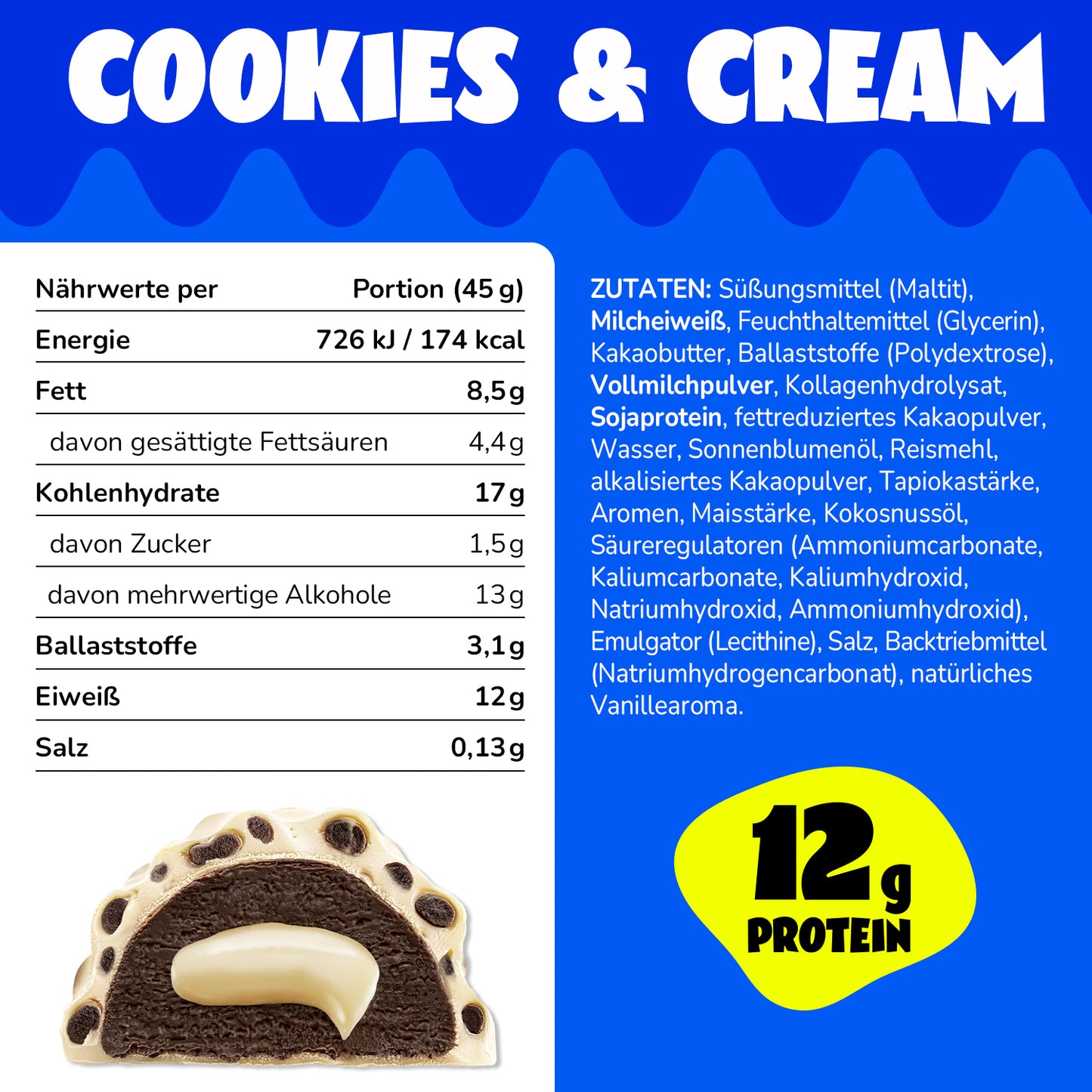 Why settle for dry when you can have praline?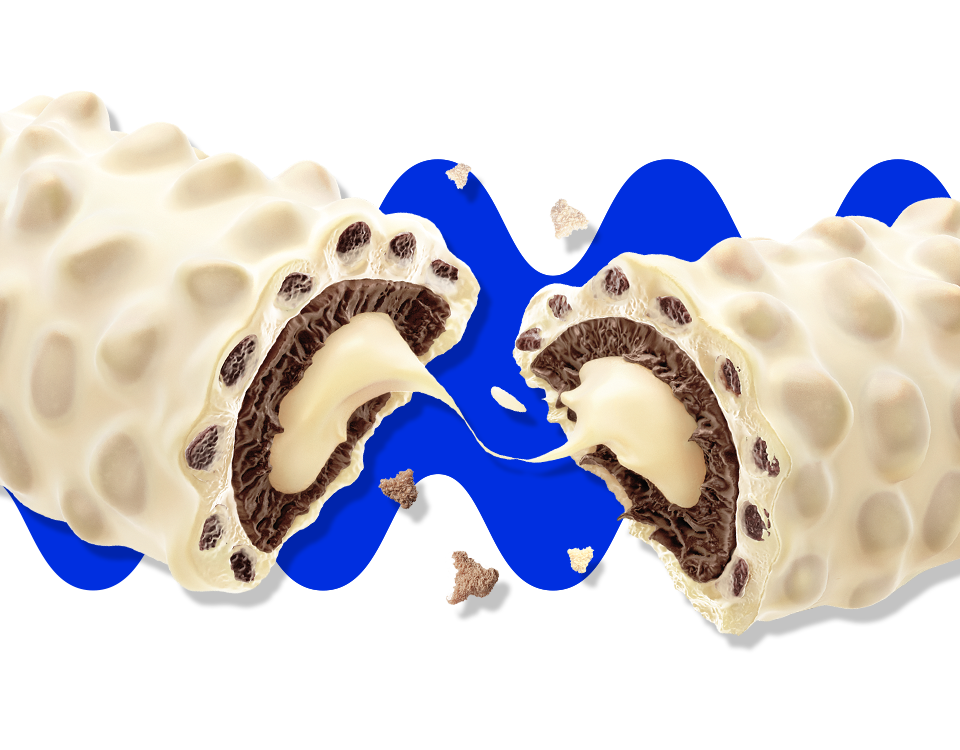 Let's be honest - most protein bars are just dry, chewy and taste too much like, well, protein? 😶 But what if there was a bar that made you feel like you were biting into a filled chocolate? Crispy cocoa crispies, soft cookie dough filled with a delicate vanilla cream. And yes, it reminds you of those famous cookies with the "O". 🤭

With this bar you not only satisfy your cravings, but also provide your body with 12g of protein with only 1,5g of sugar. Whether after exercise, as a snack in between or just because you want to treat yourself. Are you ready to redefine your protein bar standard?

12g protein per bar
Rich in protein, tastes like a real chocolate bar
Only 1,5g sugar
Sweet enjoyment without the sugar hangover
Reminds me of Ore*s cookies
Crispy, delicious, unforgettable. A taste experience like back then
With vanilla cream filling
A delicate core that gives every bite that certain something
you have questions We have answers
What makes him ahead Protein bar so special?

The protein bar from ahead® is not just a protein bar, but a culinary experience. Over the years we have worked hard to create a bar that combines the taste of a luxury praline with the benefits of a protein bar. The result is a bar that combines crunchy cocoa crispies and soft cookie dough with a delicate vanilla cream filling and is reminiscent of well-known cookies with the "O". This taste experience was achieved without compromising on the ingredients.
How can a protein bar contain so much protein and at the same time so little sugar?

By using high-quality proteins and a careful selection of ingredients, we have managed to create a bar with 12 g of protein and only 1,5 g of sugar. You'll feel like you're biting into a filled praline!
Is the Protein Bar suitable for diabetics?

Yes the ahead Nut Bar is suitable for diabetics. Since we completely avoid using sugar and instead use sweeteners, our protein bars have a very low effect on blood sugar. Whether as a snack between meals or as a sweet highlight after a meal, the ahead Nut Bar supports you in the daily control of your blood sugar level.
Do I get my money back if I am not satisfied?

100%. We stand by our products. If you're dissatisfied for any reason ... or no reason at all ... contact us. We'll refund your money and work to fix the problem.
Our taste guarantee
It has to taste good. That's why you can simply try our bars. If you're not satisfied, we'll give you a full refund up to 60 days after your purchase.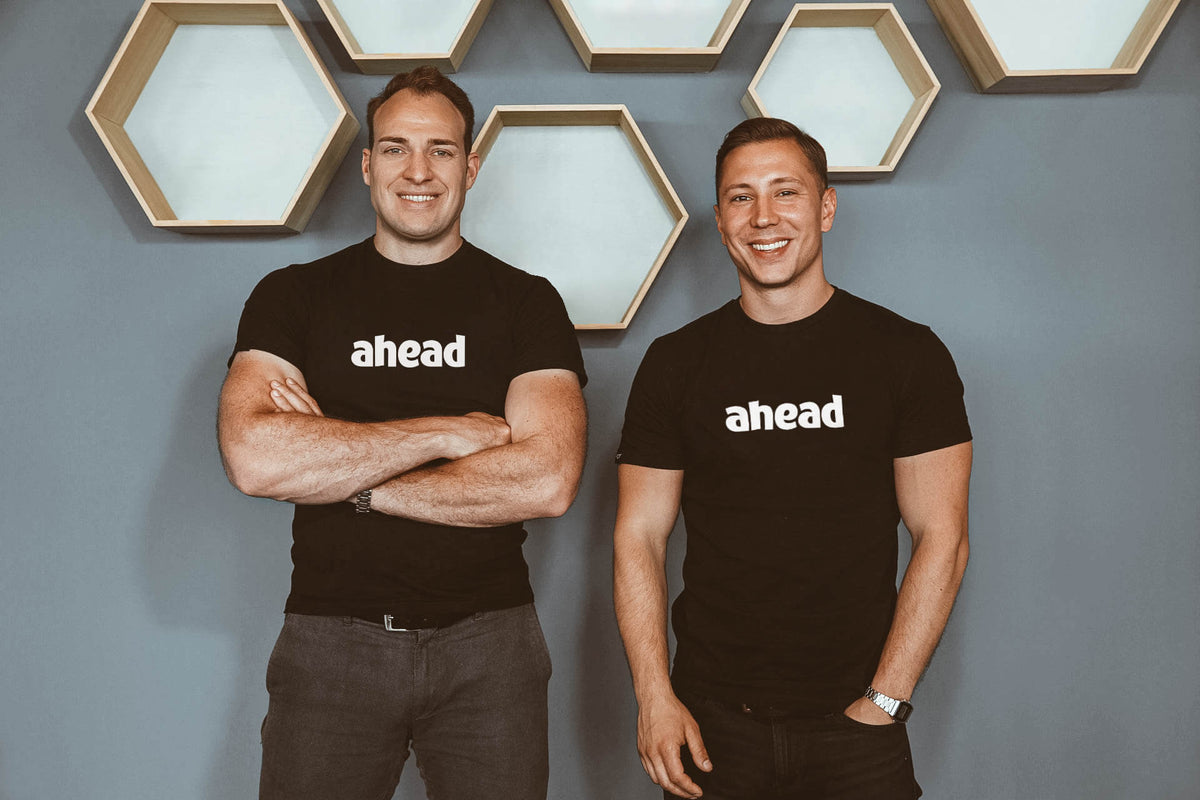 What Our Guilt Guerrilla Crew Says