Peanut Butter Cups with 90% less sugar*
✅ Only 0,8g sugar per cup
✅ Taste like Ree*es
✅ Without palm oil
✅ Vegetarian & gluten-free

Normal price
€34.40
€34.40
retail price
Normal price
€34.40
base price
pros
(€67.45 / kg) incl. VAT, plus shipping costs
60 days money back guarantee

Free Shipping (from 49€ DE)

Pay after 30 days

Pay after 30 days
INGREDIENTS

INGREDIENTS: peanut paste (37.1%), sweeteners: erythritol, cocoa mass, cocoa butter, peanut flour (7%), milk powder, vegetable fats (shea butter, coconut oil), rapeseed oil, sea salt, emulsifier: soy lecithin, steviol glycosides (from stevia), vanilla extract, sweetener: sucralose .
NUTRITIONAL TABLE

Peanut butter cups:

| | | |
| --- | --- | --- |
| Nutritional Information | pro 100g | per 1 cup (17 g) |
| Energy | 2143 kJ / 512 kcal | 364 kJ / 87 kcal |
| fat | 44,8 g | 7,6 g |
| of which, saturated fatty acids | 19 g | 3,2 g |
| carbohydrates | 23,1 g | 3,9 g |
| of which, sugars | 4,9 g | 0,8 g |
| of which polyhydric alcohols | 16,8 g | 2,9 g |
| Fibres | 5,7 g | 0,97 g |
| protein | 16,9 g | 2,9 g |
| Salt | 0,4 g | 0,07 g |
| Net carbs | 6,3 g | 1,1 g |



View full details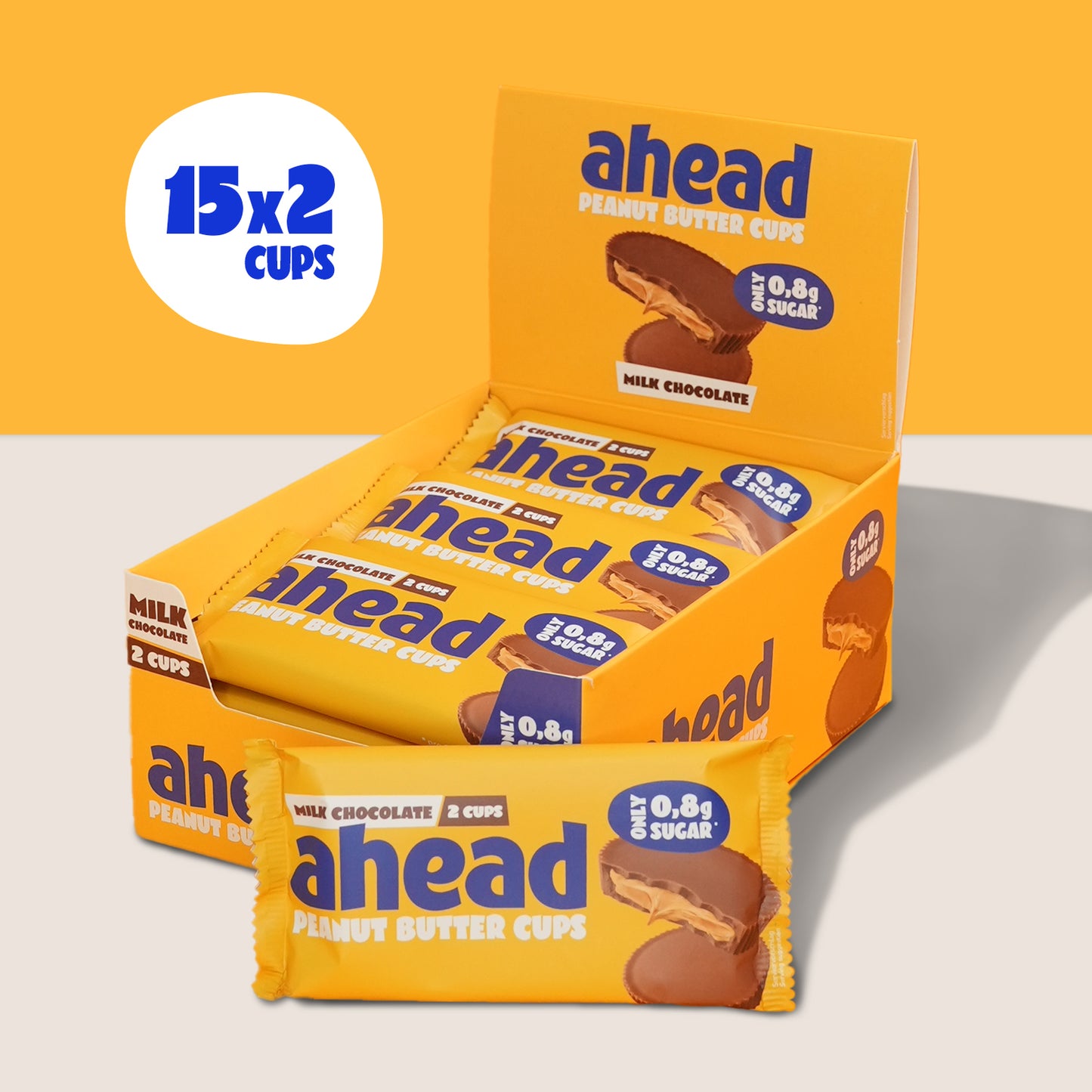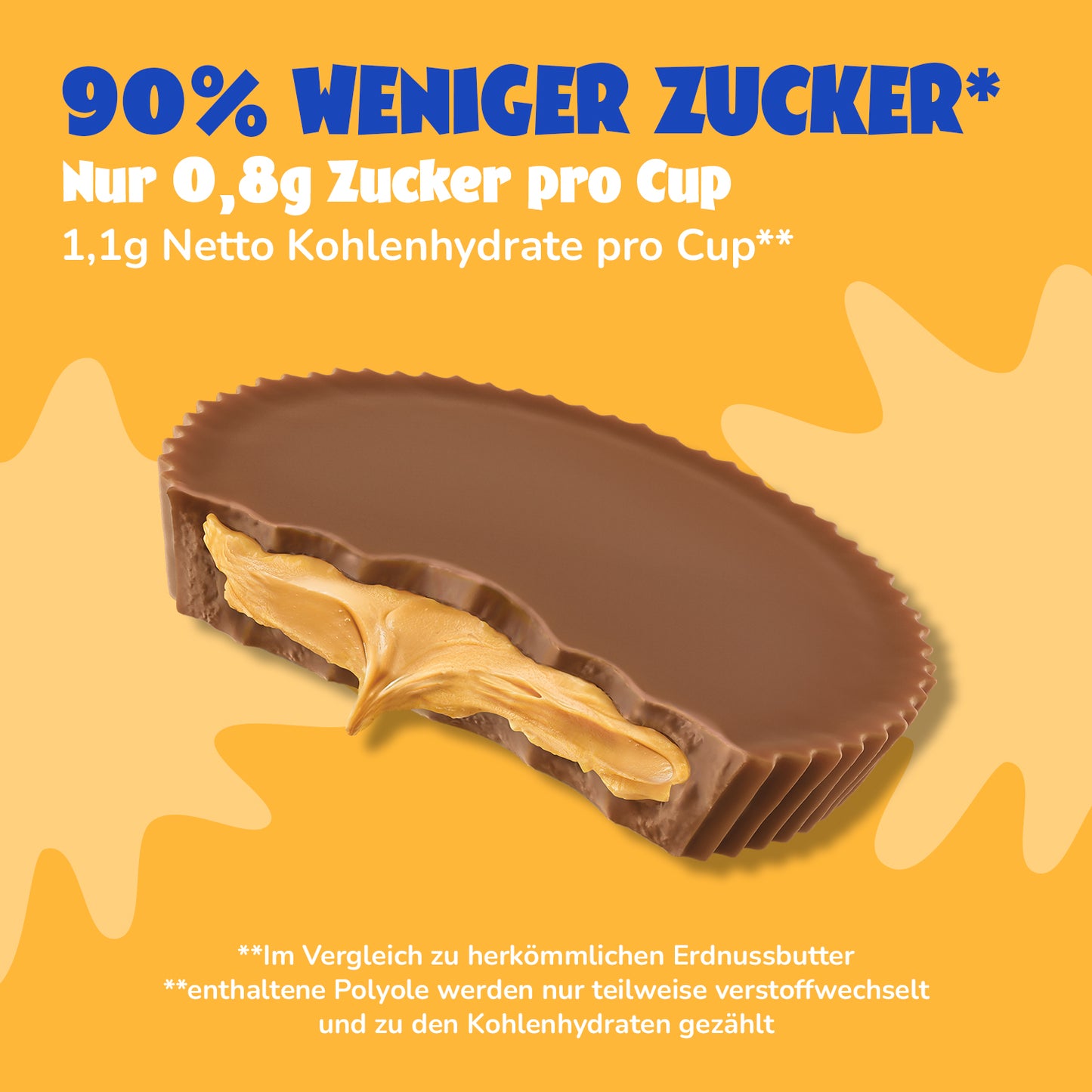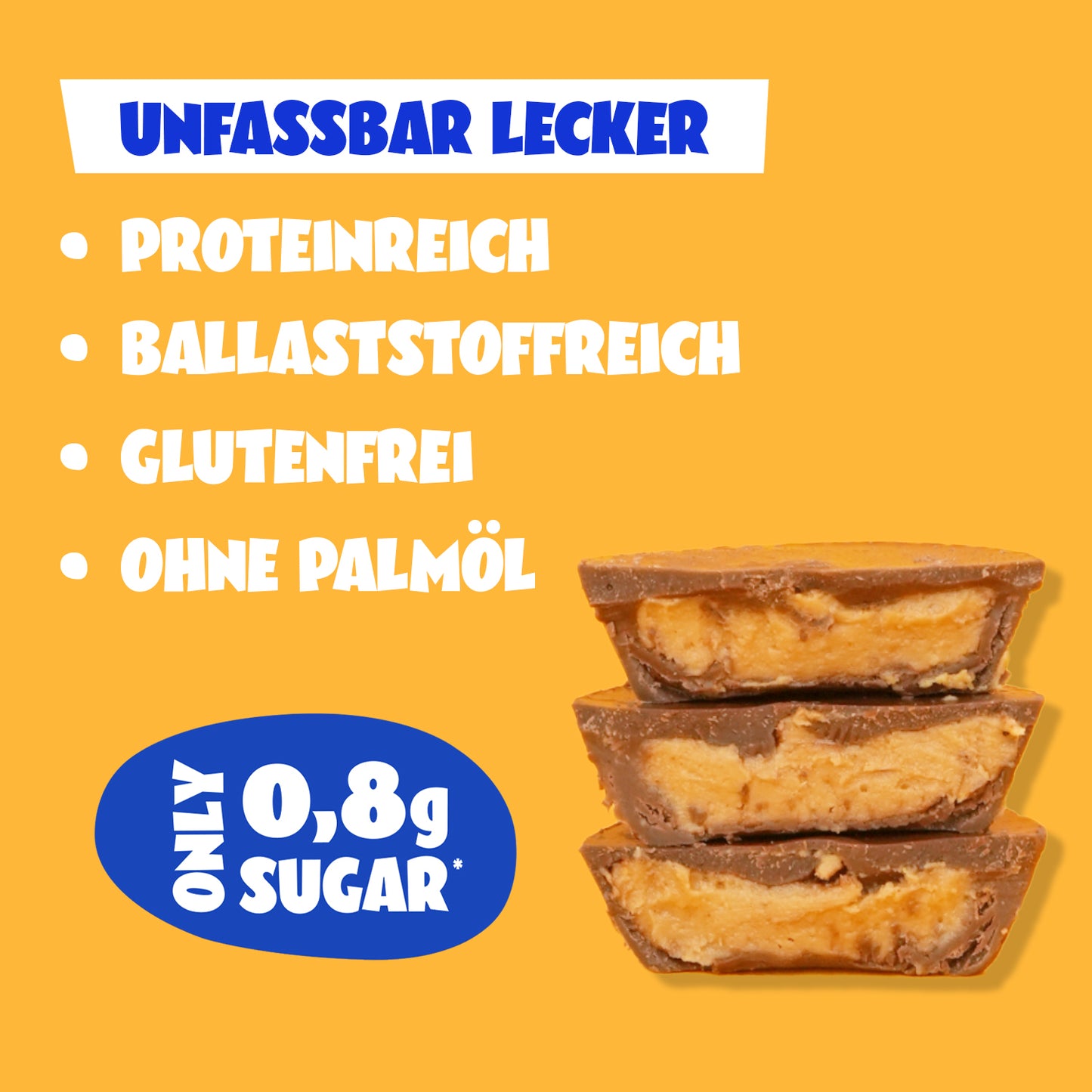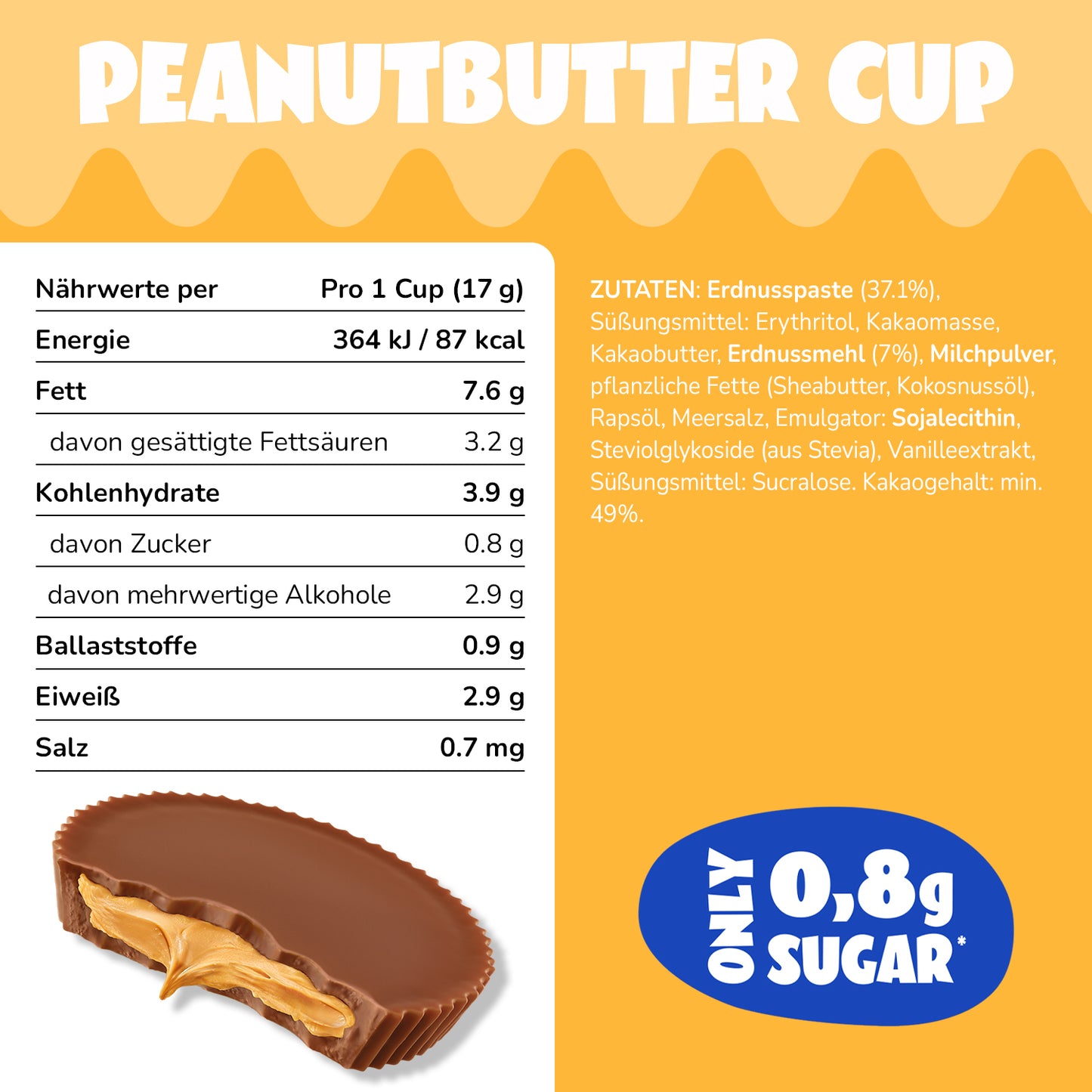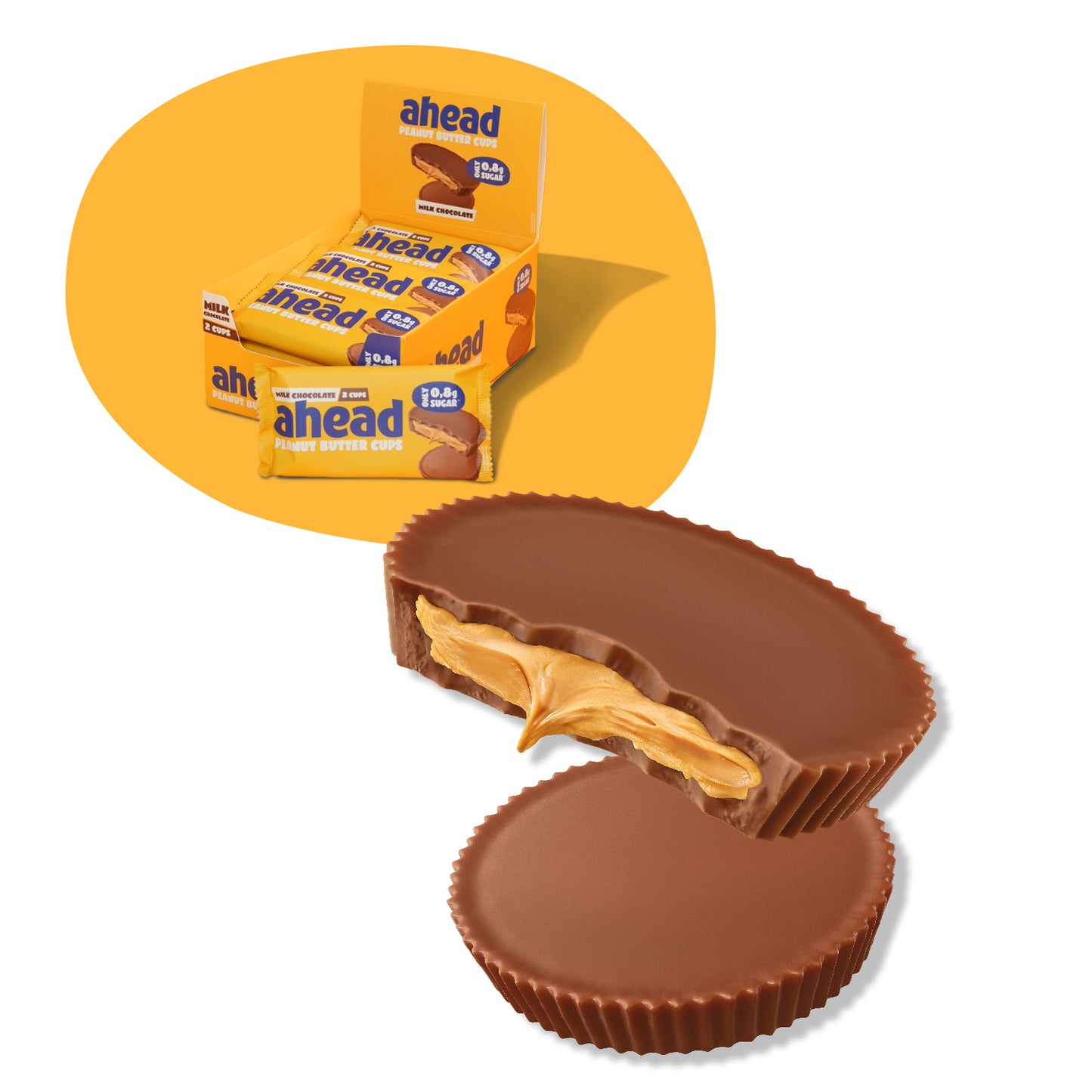 Sweet memories with no regrets!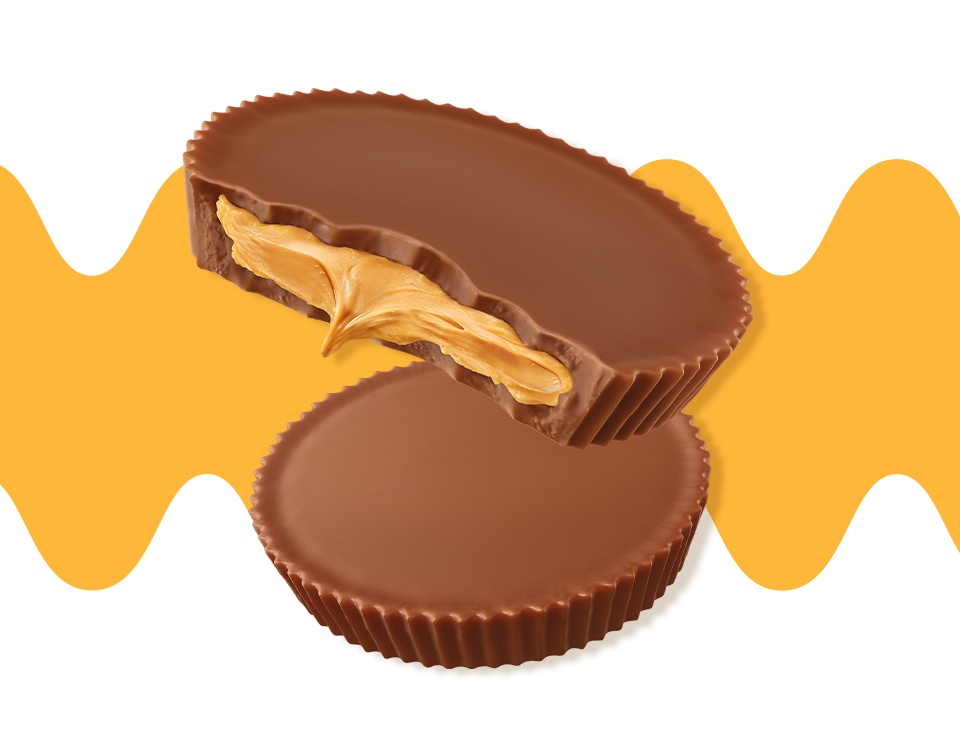 Do you know the feeling when you bite into a delicious peanut butter cup and forget the world around you for a moment? This irresistible combination of creamy peanut butter and delicate chocolate that takes you back to your childhood? We want to give you that feeling - but without the sugar regret!

Our Peanut Butter Cups bring you back the authentic taste you love so much - with 90% less sugar! Sweetened with stevia and erythritol, they have the full flavor but without the sugar shock afterwards.

Whether as a small snack in between, as a little reward after work or during a cozy movie night - with only 0,8 g of sugar per peanut butter cup, they are always the perfect choice for your sweet tooth. And the best thing: your conscience remains completely unburdened!

90% less sugar*
The authentic taste of Peanut Butter Cups, now without the sugar shock
No palm oil
Creamy enjoyment without a bland aftertaste due to the environment.
Vegetarian and gluten free
The right thing for every palate and (almost) every nutritional philosophy.
With stevia and erythritol
Uncompromising taste with only 0,8g sugar per cup!
you have questions We have answers
Why are they ahead Peanut Butter Cups a healthier choice?

The Peanut Butter Cups from ahead® contain 90% less sugar than usual products, i.e. a total of only 0,8g sugar per cup. They are sweetened with stevia and erythritol, providing the full-bodied taste without the sugar crash that follows.
Are the ahead Are Peanut Butter Cups suitable for vegetarians and people with gluten intolerance?

Yes, the product is both vegetarian and gluten-free, so suitable for many dietary preferences and needs.
Is used in the manufacture of the ahead Peanut Butter Cups use palm oil?

No, the Peanut Butter Cups are made without palm oil, so you can enjoy the creamy treat without any environmental concerns.
Do I get my money back if I am not satisfied?

100%. We stand by our products. If you're dissatisfied for any reason ... or no reason at all ... contact us. We'll refund your money and work to fix the problem.
Our taste guarantee
It has to taste good. That's why you can simply try our bars. If you're not satisfied, we'll give you a full refund up to 60 days after your purchase.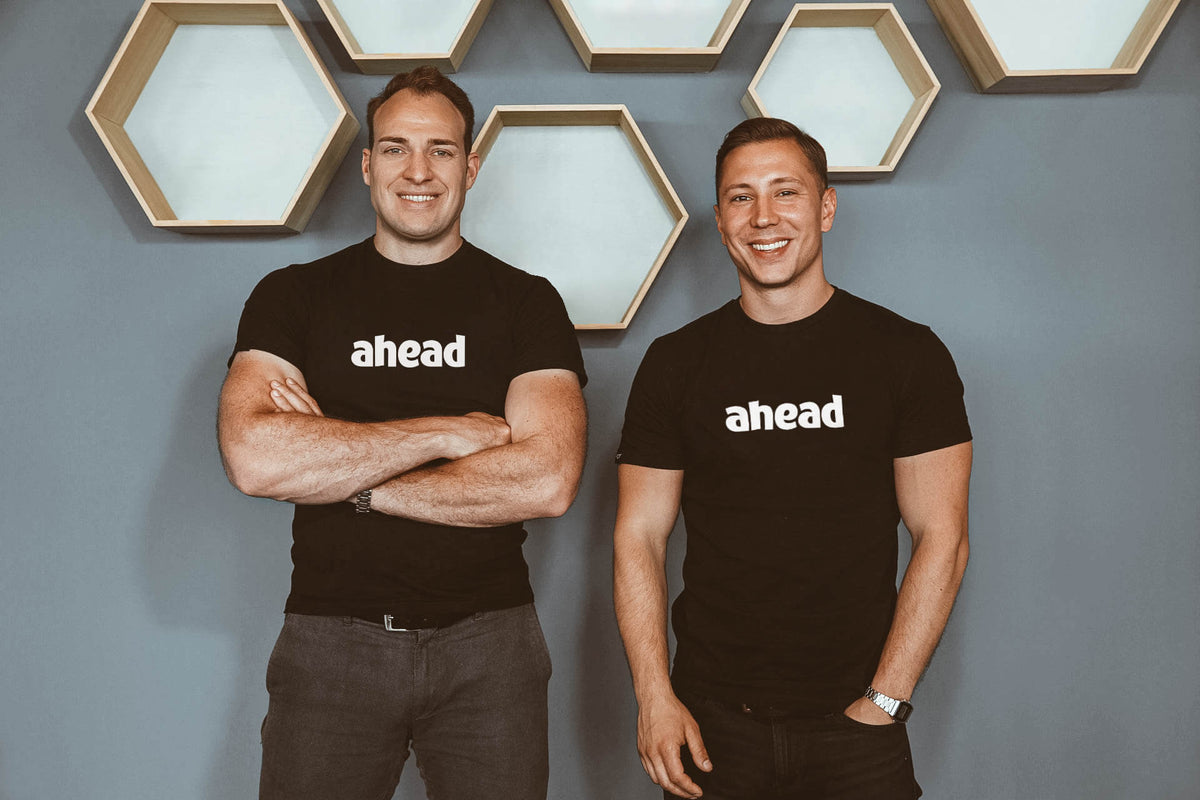 What Our Guilt Guerrilla Crew Says