Chocolate bars with 90% less sugar
Be smart and save 10%. You selected a one-time purchase. Why not switch to a flexible plan and save 10%? No minimum term, cancellable or adaptable at any time.
10% discount
Get 10% discount on every order
No minimum term
Cancel your savings subscription whenever you want
Customizable at any time
Change delivery intervals & varieties at any time
Normal price
€28.90
€28.90
retail price
Normal price
€28.90
base price
pros
(€45.87 / kg) incl. VAT, plus shipping costs
60 days money back guarantee

Free Shipping (from 39€ DE & AT)

Pay after 30 days

Pay after 30 days
INGREDIENTS

INGREDIENTS: 24% coconut flakes, bulking agent: polydextrose, sweeteners: maltitol, sorbitol, erythritol; 14% roasted almonds, cocoa butter, 6% whole milk powder, oligofructose syrup, humectant: glycerin. Dextrin (Wheat), Cocoa Mass, Coconut Oil, Flavourings, Pea Protein, Emulsifier: Lecithins (Soy), Acidity Regulator: Sodium Citrate, Salt, Antioxidant: High Tocopherol Extracts; Sea-salt.
35g per bar

Please note:
Do not consume more than 100g bars a day. Can have a laxative effect if consumed in excess.
NUTRITIONAL TABLE

| Nutritional Information | 35 g per bar | per 100 g |
| --- | --- | --- |
| Energy | 702 kj / 170 kcal | 2006 kj / 487 kcal |
| fat | 12 g | 35 g |
| - of which total Fatty acids | 7,7 g | 22 g |
| carbohydrates | 12 g | 33 g |
| - of which sugars | 1,7 g | 4,9 g |
| - of which polyhydric alcohols | 6,7 g | 19 g |
| Fibres | 8,1 g | 23 g |
| protein | 2,3 g | 6,6 g |
| salt | 0,05 g | 0,15 g |
View full details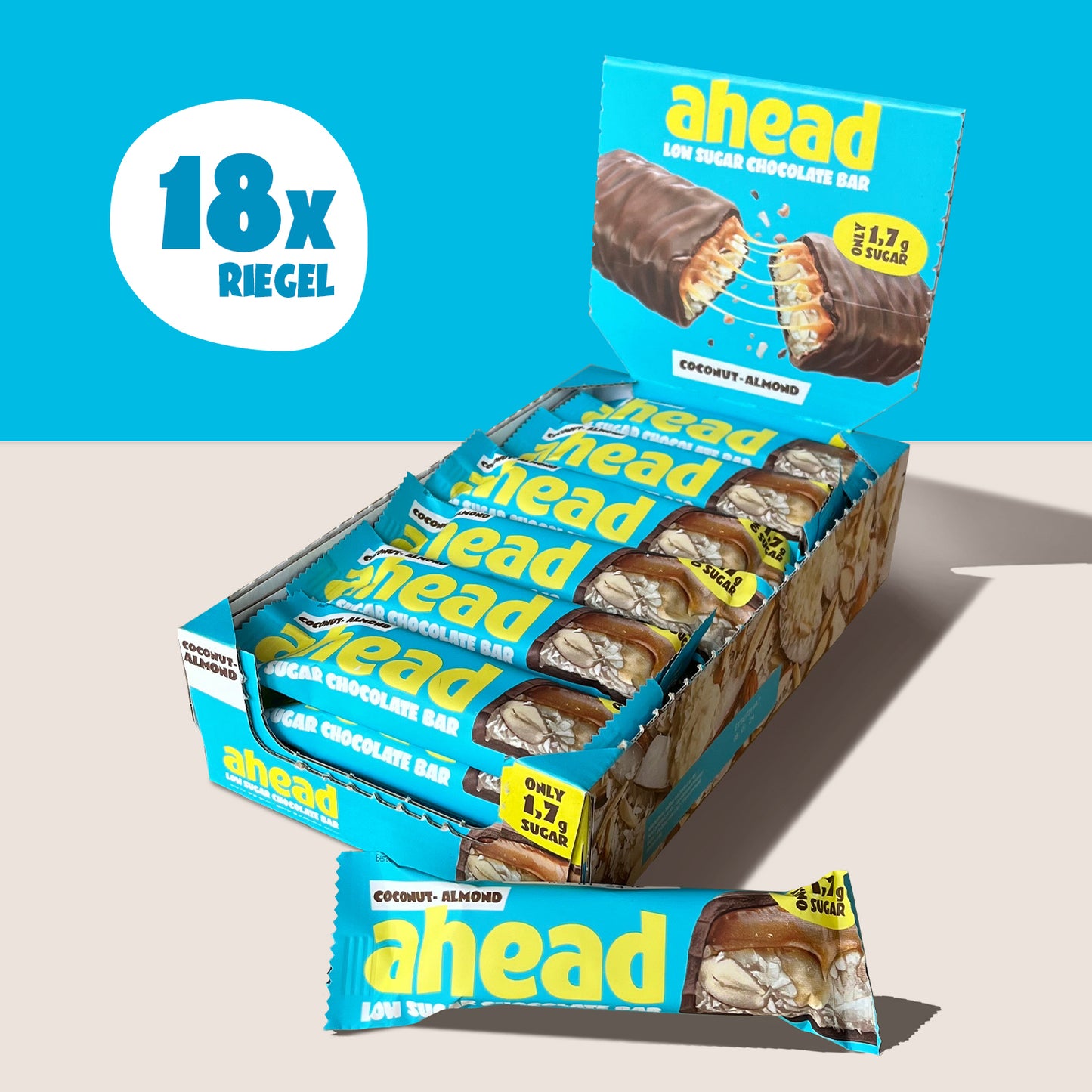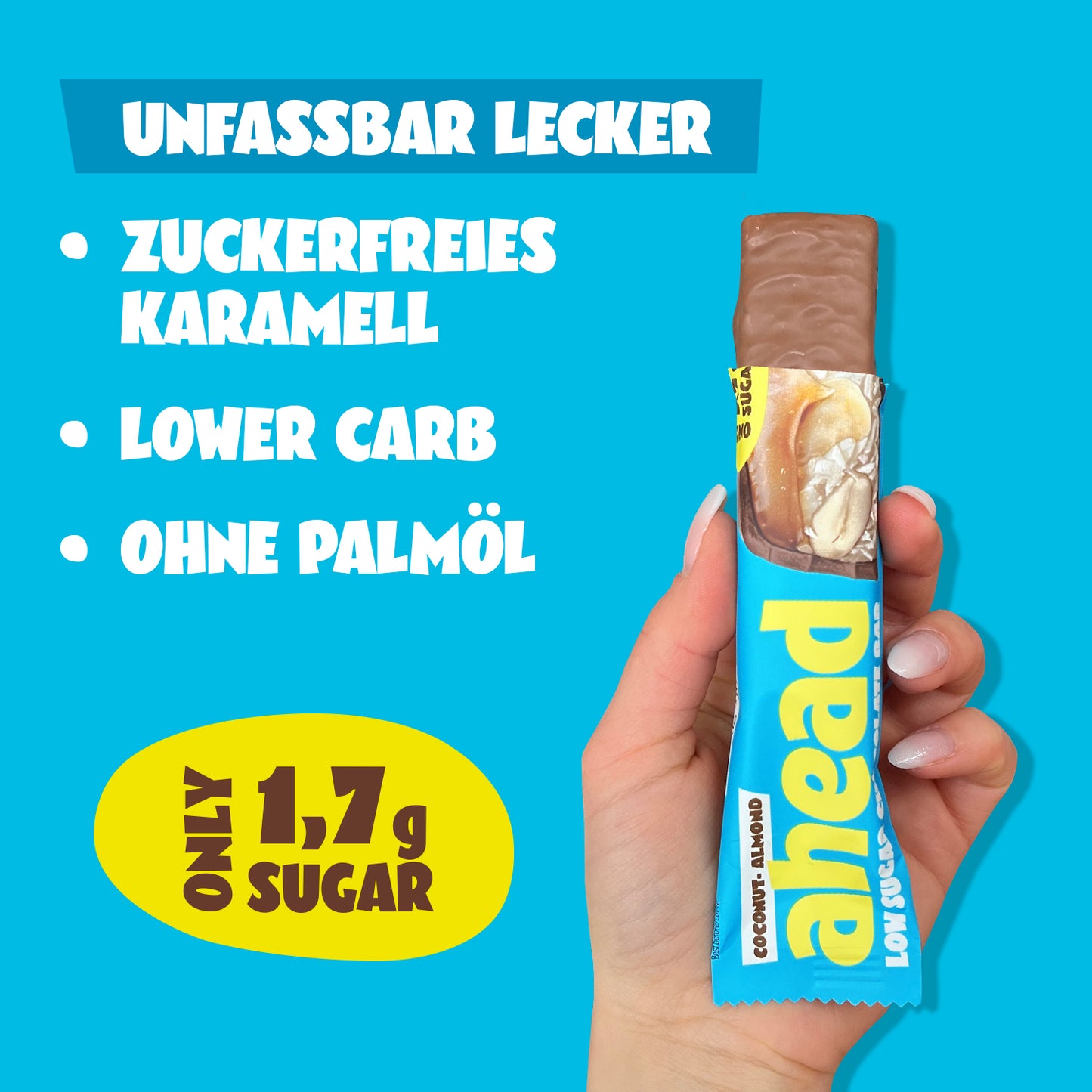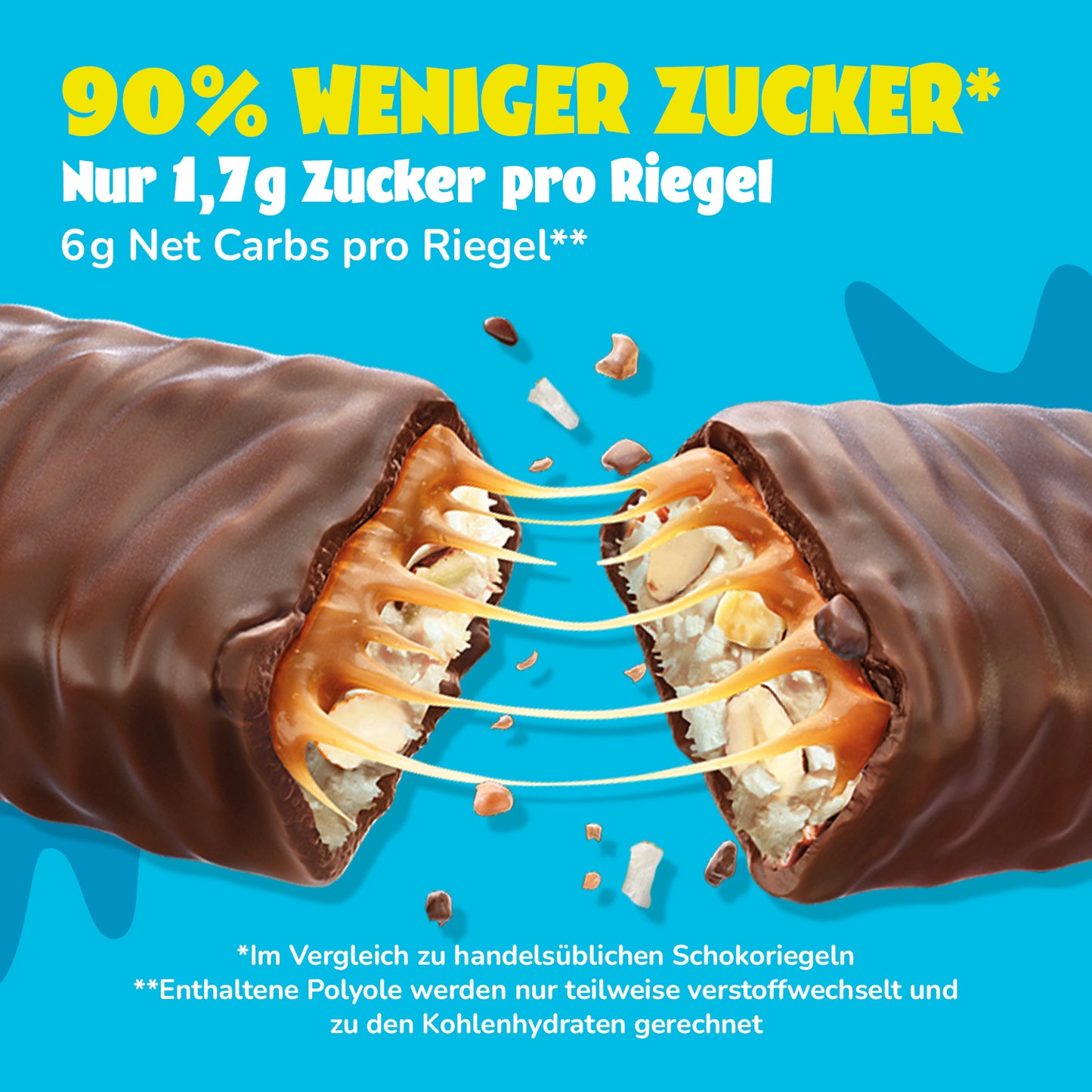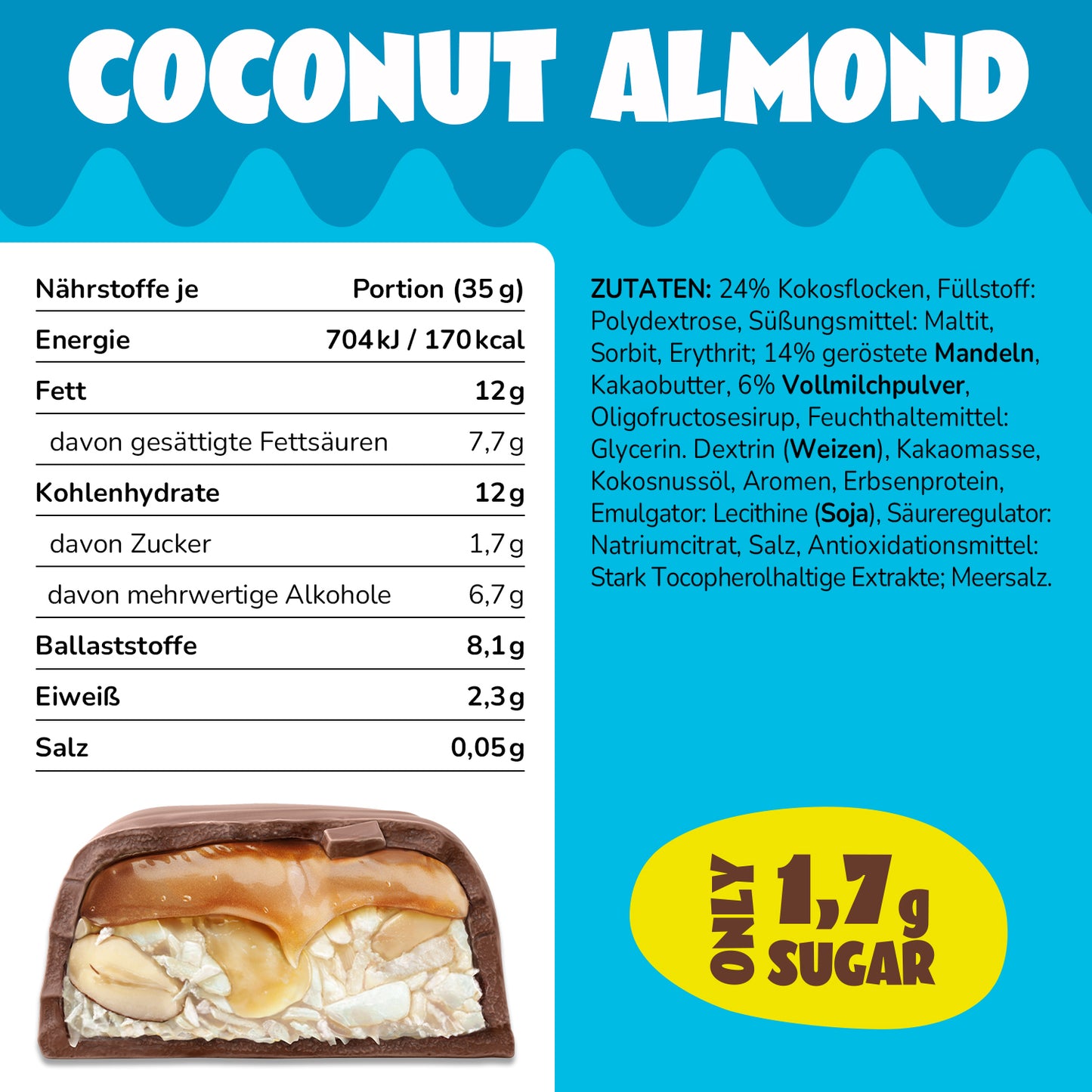 savings package
All Bars Savings Bundle V2
-15%

Low Sugar Chocolate Bar
Best Seller Bundle V2
-5%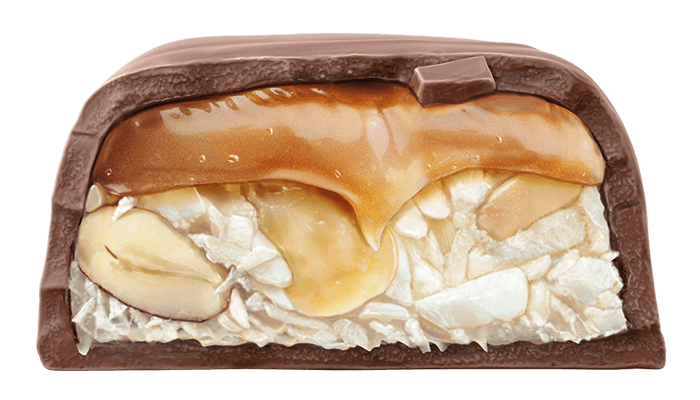 1,7g sugar
All of the enjoyment, none of the compromise.
Fibres
Rich in important fiber
lower carb
Only 6g net carbs
Keto friendly
Valuable fats from coconuts and almonds
Real taste. 90% less sugar.*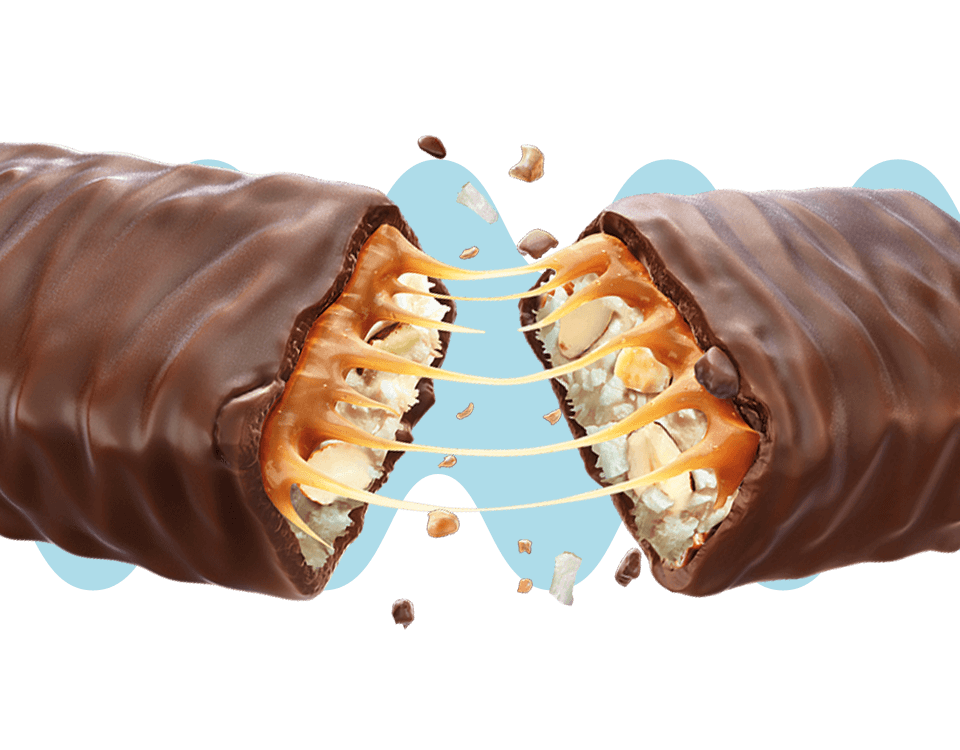 If you're in the mood for chocolate, no protein bar can save you. You want chocolate, so you get chocolate. Finally snacking without a guilty conscience: The ahead Bar turns your wildest fantasies into sweet reality. Treat yourself to the bar when your head needs a break, free from added white fattening sugar, palm oil and other nonsense.

This is how we compare to the "classics".
you have questions We have answers
How can a bar with so little sugar be so delicious?

To get the taste of the ahead Reaching bars took over 2 years of development. In order to achieve the full taste, we work with a precisely matched mixture of sugar substitutes, also known as sugar alcohols. These are naturally also present in small quantities in many types of fruit and vegetables. For example, sorbitol is found in apples and pears. In industrial production, like maltitol and erythritol, it is obtained from vegetable carbohydrates such as corn starch. In contrast to sugar, sugar substitutes do not harm the teeth. In addition, sugar substitutes contain less energy than sugar, as these can only be partially metabolized.
Is the ahead Bar low carb?

The ahead Bar contains up to 80% less net carbohydrates and up to 95% less sugar than conventional chocolate bars. And we are 100% free of added sugar. The sugar substitutes maltitol and erythritol have to be labeled as carbohydrates, but are only partially metabolized. This brings us to only 6g net carbs.
Are the bars gluten free?

The bars do not contain any gluten products that people with gluten intolerance or celiacs could react to. Despite being made from wheat, the dextrin it contains is gluten-free like all dextrins. However, the bars are produced in a facility that also processes wheat products. Therefore, traces of wheat cannot be excluded.
I want to lose weight. Does it fit ahead Bar in my diet?

The ahead Bar relies on valuable fats from coconuts and cocoa instead of sugar and carbohydrates. It is a persistent myth that fat inevitably makes you fat. Because unlike sugar and carbohydrates, the intake of fats ensures a natural and long-lasting feeling of satiety. An analysis of over 50 nutritional studies published in the medical journal "Food and Nutrition Research" also shows that it is better to focus on reducing carbohydrates than fat when dieting.
Do I get my money back if I am not satisfied?

100%. We stand by our products. If you're dissatisfied for any reason ... or no reason at all ... contact us. We'll refund your money and work to fix the problem.
Our taste guarantee
It has to taste good. That's why you can simply try our bars. If you're not satisfied, we'll give you a full refund up to 60 days after your purchase.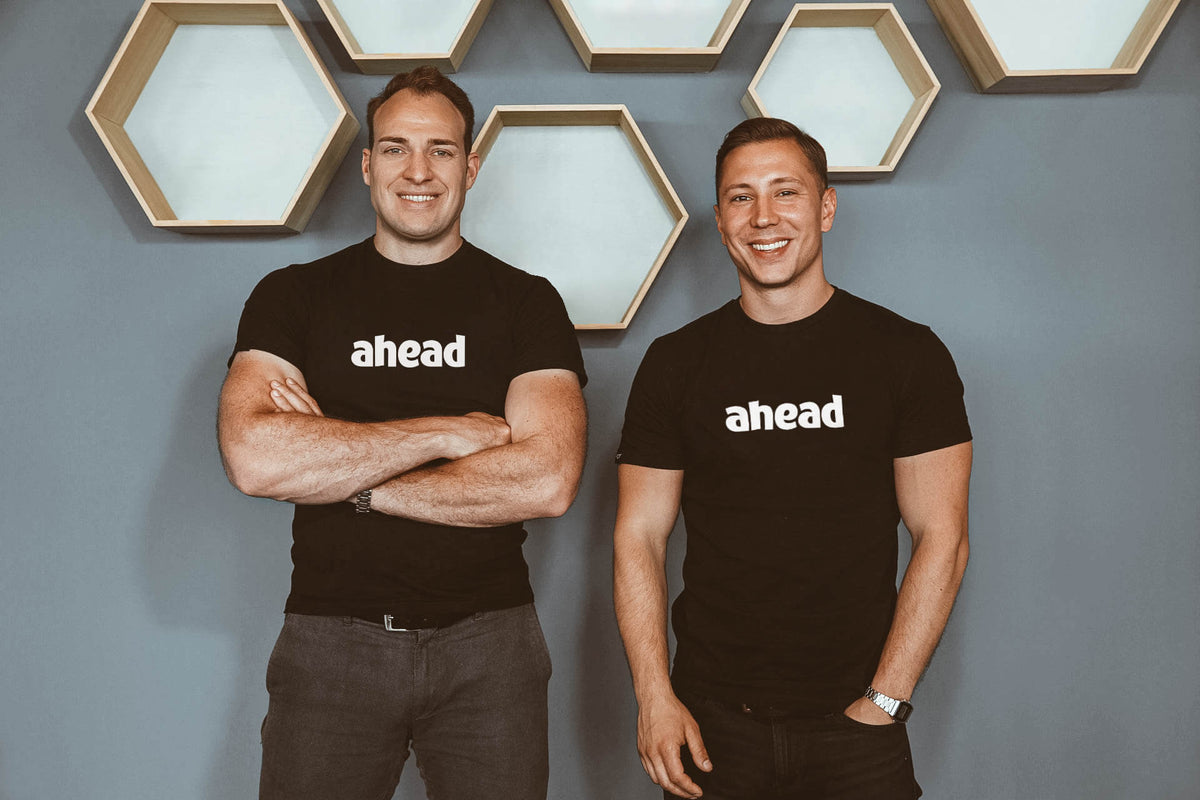 What Our Guilt Guerrilla Crew Says