Be smart and save 10%. You selected a one-time purchase. Why not switch to a flexible plan and save 10%? No minimum term, cancellable or adaptable at any time.
10% discount
Get 10% discount on every order
No minimum term
Cancel your savings subscription whenever you want
Customizable at any time
Change delivery intervals & varieties at any time
Normal price
€34.90
€34.90
retail price
Normal price
€34.90
base price
pros
(€572.13 / kg) incl. VAT, plus shipping costs
90 Capsules
€1.16
per daily portion
60 days money back guarantee

Free Shipping (from 49€ DE)

Pay after 30 days

Pay after 30 days
INGREDIENTS

Ingredients: Reishi Mushroom Extract, L-Tryptophan, Hydroxypropylmethylcellulose (Vegetable Capsule Shell), Chamomile Extract, Lemon Balm Extract, Wild Cherry Seed Extract, Vitamin B3 (Niacin), Magnesium Malate, Green Tea Extract, Vitamin B5 (Pantothenic Acid), Black Pepper extract, vitamin B6 (P5P), vitamin B1, turmeric extract, vitamin B9 (folic acid), vitamin B12 (methylcobalamin).

Please note:
Food supplements are not a substitute for a balanced and varied diet or a healthy lifestyle. The recommended daily dose should not be exceeded. Keep out of reach of children.
NUTRITIONAL TABLE

| Ingredients | per 3 capsules (daily dose) | % NRV * |
| --- | --- | --- |
| Reishi mushroom extract | 750 mg | ** |
| - of which polysaccharides | 300 mg | ** |
| L-Tryptophan | 400 mg | ** |
| Chamomile flower and leaf extract | 100 mg | ** |
| Lemon balm leaf extract | 50 mg | ** |
| Wild thorn cherry seed extract | 50 mg | ** |
| Vitamin B3 | 48 mg | 300% |
| Vitamin B5 | 18 mg | 300% |
| Vitamin B6 | 4,2 mg | 300% |
| Black pepper fruit extract | 10 mg | ** |
| - of which piperine | 9,5 mg | ** |
| Vitamin B6 | 4,2 mg | 300% |
| Vitamin B1 | 5 mg | 455% |
| Curcuminoids | 3,8 mg | ** |
| Vitamin B9 | 0,3 mg | 150% |
| Vitamin B12 | 7,5 μg | 300% |

* Reference amount for daily intake in accordance with EU regulation / NRV = Nutrient Reference Value

** no reference quantity available
View full details
Natural serotonin precursor
L-tryptophan for serotonin production
High-dose B complex
Essential vitamins for your overall well-being
Protective shield against stress
The all-important vitamin riboflavin protects the cells from oxidative stress.
Supports the nerves and psyche
Vitamin B6 contributes to the normal operation of the nervous system and psychological function.
Mental balance for your daily challenges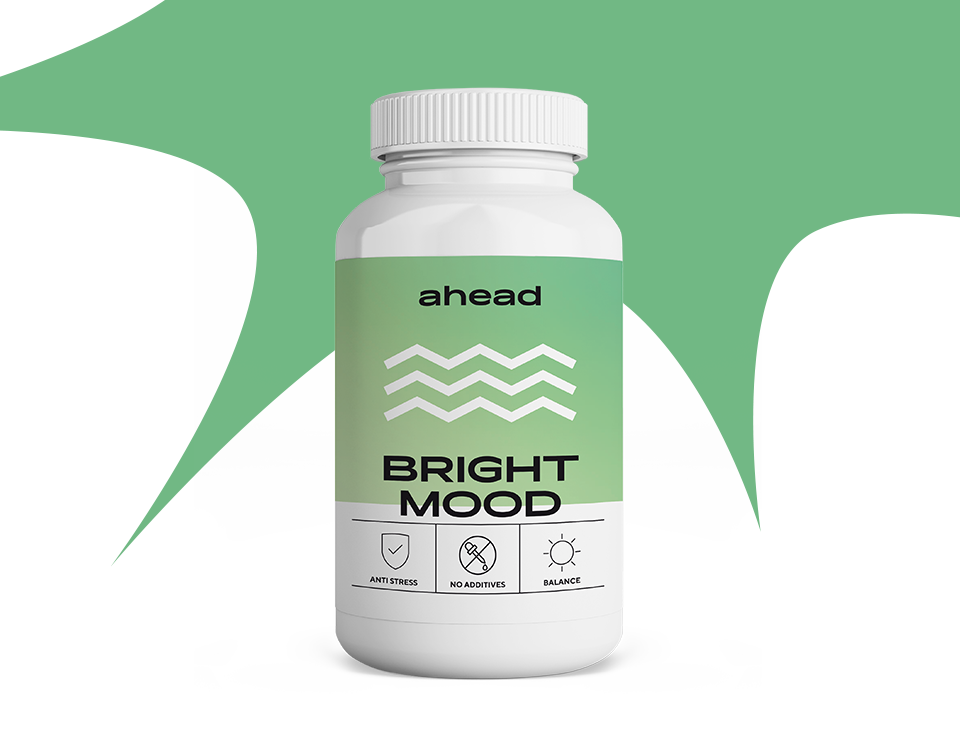 How are you feeling today? Whether good or bad - your mood is the result of the interaction of different neurotransmitters in your brain. Above all, the neurotransmitter serotonin influences the feeling of happiness, positive thinking and the feeling of balance. Recreation and creativity are also associated with serotonin.
The combination of L-tryptophan and vitamin B6 provides you Bright Mood the basic building blocks your body needs to create serotonin.

🧘 Reishi Extract

contains more than 100 bioactive polysaccharides and triterpenes, which cause medicinal effects on the body and brain.
🧘 Serotonin precursors

L-tryptophan is one of the essential amino acids and is converted to serotonin in the body.
🧘 Bioactive plant extracts

The bioactive flavonoids apigenin (chamomile), citral and citronellal (lemon balm) and spinosin (jujube) ensure potency.
🧘 B vitamins

The eight B vitamins are responsible for numerous metabolic functions in the body, such as supporting the nerves and providing energy.
Don't give everyday stress a chance
Unfolds its full potential Bright Mood through the interplay of the serotonin building blocks with a high-dose active ingredient extract from the Reishi mushroom, a curated selection of bioactive plant extracts and a complex of B vitamins. The riboflavin it contains protects you effectively against oxidative stress, vitamin B12 reduces the feeling of exhaustion and vitamin B6 supports your nerves and psychological function.
you have questions We have answers
Do I get my money back if I am not satisfied?

100%. We stand by our products. If you're dissatisfied for any reason ... or no reason at all ... contact us. We'll refund your money and work to fix the problem.
Do you get your ingredients regionally?

We source our ingredients from sustainable cultivation worldwide. We choose the place of origin based on where we get the best quality of the raw material. We're always looking for better local options. If you have a tip, we look forward to your message.
How does my subscription work?

Before we debit the monthly amount, you'll receive an email confirming your next delivery. You can postpone or cancel your next delivery at any time in your account. We want to deliver only as much as you need.
Our 60 day money back guarantee
Test our products for up to 60 days. If you are not satisfied, we will give you a full refund. That's how much we believe in our product.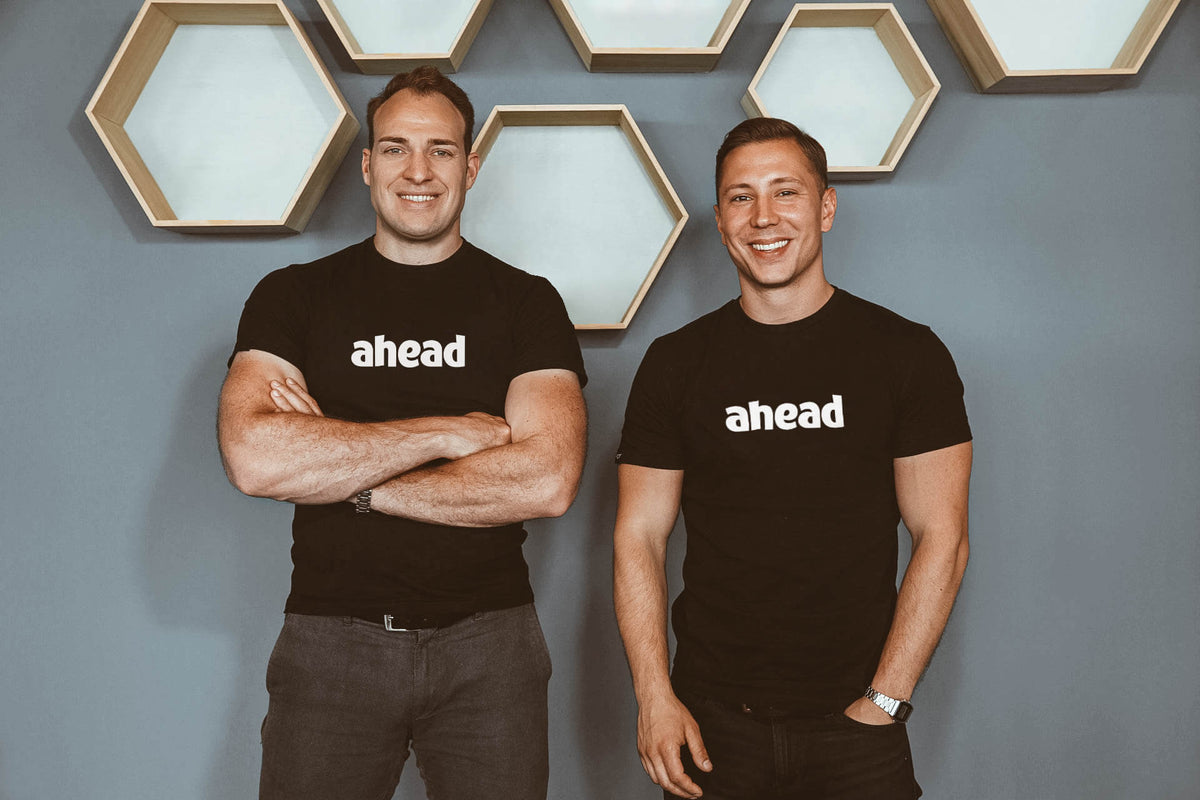 What Our Guilt Guerrilla Crew Says